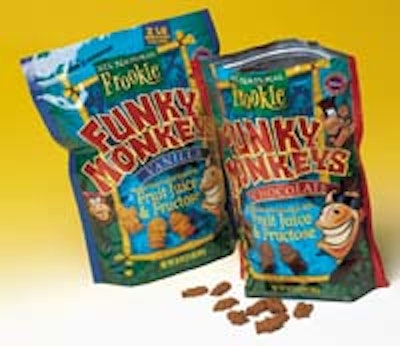 That's why the Des Plaines, IL-based company switched to a 2-lb stand-up resealable pouch with eye-catching graphics about seven months ago.
Funky Monkeys had been packaged in a 2-lb polypropylene jug and sold only in club stores, says Doreen Lindsey, manager of marketing services for Delicious Brands. "The jug looked outdated, and we wanted to do something more interesting," she says.
The new package is more grocery-friendly, Lindsey says, and now the crackers are sold in natural-food stores like Whole Foods and Fresh Fields for $5.99 to $7.99. Sales have increased 34% since the redesign, Lindsey adds. And because the product appeals to environmentally and health-conscious consumers (the crackers are made with organic wheat flour and sweetened with fructose and fruit juice, not refined sugar), a resealable package constituting less waste (by weight) than the jug appealed to Delicious Brands.
As for cost, Lindsey says the new package saves 50% per bag vs the jug. "Now we don't have to buy labels, caps and [tamper-evident] seals," she says. "And the bags take up less space in shippers."
The 5?-mil lamination, converted by the Pyramid Group (La Habra, CA) at its facility in Seoul, Korea, consists of polyester, a metallized polyester and a polyethylene-based sealant. Printing of the surface polyester is done in reverse on a gravure press in six colors. The metallized polyester provides gas and moisture barrier. Shelf life has increased from six months to eight months since the pouch replaced the jug, Lindsey says. Pyramid wouldn't reveal the supplier of the zipper or the material. The crackers are made and the premade bags are semi-automatically filled at Bloomfield Bakers (Los Alamitos, CA).
Companies in this article