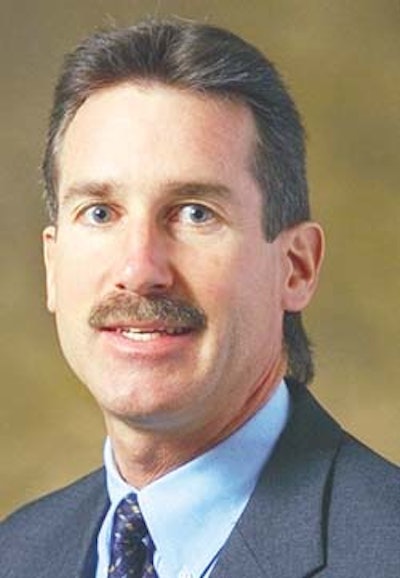 Graham Packaging (York, PA): Roger M. Prevot, CEO; John A. Buttermore, gen. mgr., food and beverage unit.
Hoppmann Corp. (Haymarket, VA): Mark Flanagan, president.
Topwave Industries Ltd. (Marietta, GA): Stephen Caldwell, president, COO.
Amcor Twinpak (Montreal, Quebec, Canada): Garry B. Davis, president, CEO, Amcor PET Packaging, and vp, Amcor Twinpak North America Inc.
Milacron (Batavia, OH): Marty Lakes, president, Uniloy Milacron.
Black Clawson (Fulton, NY): Carl C. Landegger, chairman of the board; Richard Pignataro, CEO, LI Group; Mark A. Panozzo, president, gen. mgr., Black Clawson Converting Machinery LLC; William Stevenson, dir., customer service.
FlexLink (Bethlehem, PA): Dave Clark, president, Western hemisphere operations.
Adept Technology, Inc. (San Jose, CA): John Dulchinos, vp, North American sales.
CFC Holographics (Chicago Heights, IL): David C. Beeching, vp, Holographics Security Group.
Westvaco Corp. (New York, NY): G. Thomas Cruce, vp, mgr., U.S. sales; Charles E. Johnson Jr., vp, mgr., global sales; James L. Martin, senior vp, mgr., sales and customer resources; James F. Jordan, senior vp, mgr., marketing and new business development.
Packaging Machinery Manufacturers Institute (Arlington, VA): Bernard M. McPheely, chairman, executive committee; Dennis P. McGrath, vice chairman, executive committee; Anthony J. Izzi, secretary/treasurer, executive committee; Robert S. Potdevin, immediate past chairman, executive committee.
BluePrint Automation, Inc. (Colonial Heights, VA): Michael Ganacoplos, vp, gen. mgr.
FilmX (Dayville, CT): Michael Quarrey, gen. mgr.
R.A. Jones & Co. Inc. (Cincinnati, OH): Jim Zdinak, mgr., technical sales; Gary Vulgamore, senior integration eng.
Companies in this article
Videos from Shibuya Hoppmann Corporation