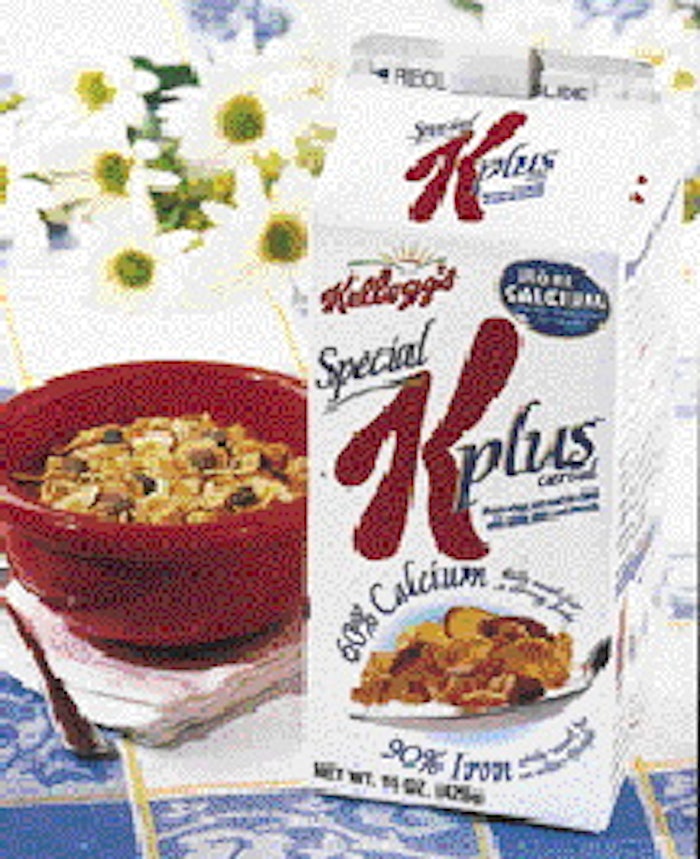 To emphasize this new cereal's high calcium content, the Battle Creek, MI, firm opted for a linerless gabletop carton that resembles the package most commonly associated with high-calcium-content products: a milk carton.
Dominated by a white background with the brand's Special K Plus logo, the pack opens and recloses like a standard milk carton. The cereal carton is supplied by International Paper (Purchase, NY). The pack also includes an unusual plastic slide device that rides the top ridge of the gabletop. The plastic slide provides an additional level of reclosability.
Meghan Parkhurst, senior manager of communications, won't reveal material information nor details on the economics of the new container. But she does tell Packaging World that new equipment was added at the company's Memphis, TN, plant to package the 15-oz product. The product line addition aims at providing women with calcium, iron and other nutrients. Available nationwide at supermarkets and retail stores, Special K Plus sells for $3.79, the same as the BIB version. It also achieves the same six-month shelf life.
Companies in this article