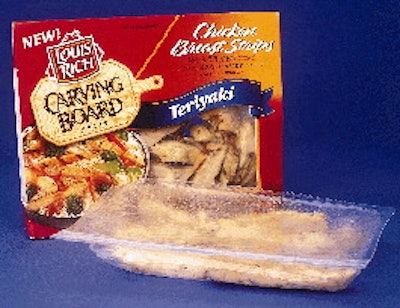 Launched nationwide in February, the 6-oz packs of seasoned chicken are available in the supermarket refrigerated lunchmeat case for $3.29.
The primary package consists of a thermoformed flexible film and clear lidstock. Also featured is a zipper for reclosing, said to be supplied by Minigrip/Zip-Pak (Manteno, IL). To open the pouch, the consumer tears a narrow perforated strip of film off the top of the pouch. This exposes the closed zipper. The consumer then separates male and female halves of the zipper. In pulling these apart, a heat-seal below the zipper is broken, and the pouch is fully opened.
Ink-jet printed on the non-forming web is a use-by date. The packages purchased by a Packaging World editor in a Chicago supermarket on March 7 had a use-by date of April 14. So shelf life Oscar Mayer is achieving on the package is somewhere in the range of 35 to 40 days.
The use-by date is also imprinted on the back of the attractive paperboard sleeve in which the product is merchandised. With a bottom that's 11/4" wide, the sleeve stands nicely in a refrigerated display. High-impact graphics effectively grab attention, while front and back windows show the product inside. Also intriguing: The back of the paperboard sleeve has a recipe card that's perforated, so it's easy to remove and store.