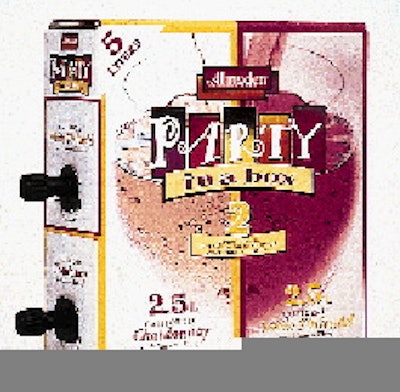 The Canandaigua, NY, vintner believes Party in a Box marks a first in the wine industry: two different wines in two separate bags, each containing 2.5 L of wine. Especially unusual is that each bag is heat-sealed with the company's patented Twist 'N Serve(TM) spout.
The box includes scoring that enables the consumer to pull out two spouts from a side panel. Each spout turns on or off like a faucet, eliminating leakage that sometimes occurred with diaphragm-like spouts common to some wine boxes. Georgia-Pacific (Atlanta, GA) supplies the Coralure® box, which includes a 20-pt SUS top linerboard that's litho-printed in six colors. Completing the structure are a 38# medium and a 69# linerboard.
The three-piece injection-molded polypropylene/polyethylene spout comes from a company in South Africa. Spouts are heat-sealed to an inner bag sourced through Huntsman Packaging (Salt Lake City, UT). Canandaigua would not divulge the exact film structure, saying only that its thickness exceeds 5.5 mils. Huntsman adhesive-laminates the multilayer structure, which includes a proprietary barrier layer film supplied by a Japanese manufacturer. That film is sandwiched between PE layers. "It provides high oxygen barrier that's allowed us to lengthen the product's shelf life about 40 percent," says a purchasing representative from Canandaigua, who preferred not to be identified. He says the company is projecting shelf life of up to 18 months. Party in a Box packs are manually filled for now. Strong sales growth could lead to the purchase of automatic equipment. Party in a Box sells for $13.99 nationwide.
"The Twist 'N Serve spout is a first in the bag-in-box wine segment, and it gives us a point of difference," notes Therese Corrigan-Bastuk, the company's consumer focus brand director. Because the Party in a Box first debuted in April and the Twist 'N Serve spout in January, she says it's too early to gauge the success of either.
Companies in this article