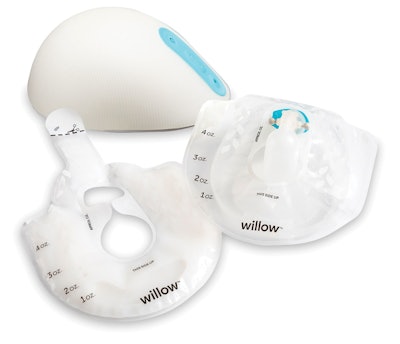 Lavishing superlatives on the Willow Pump and its leak-proof pouch is perfectly appropriate. Each disposable linear low-density polyethylene bag holds 4 oz and features a one-way valve so milk goes in but doesn't spill out. A fresh bag is tucked inside the Willow pump for each use. Food-safe and BPA-free, Moms can either pour the milk into a bottle for immediate use or they can store it in the fridge or freezer. The pump system is based on a convenient hands-free design that provides mobility and discretion.
No wonder FPA honored the pouch from Willow manufactured by Vonco Products, LLC with a Gold award for Technical Innovation, and two Silver awards, one for Expanding the Use of Flexible Packaging, and one for Packaging Excellence.
Willow was also honored as the top innovation by Time Magazine, which noted, "Most electric breast pumps use air-horn-shaped collection bottles, which are tethered to loud, whirring machines. Willow is working to change that. Its battery-powered alternative is quiet and small enough so that women can slip it into their bra and pump wherever they want. (Each is lined with a freezer-safe bag.) It could revolutionize an industry in desperate need of disruption."
The overall device consists of four parts: the Willow bag, a flex tube, a flange that connects to the breast, and the pump, notes Naomi Kelman, President and CEO of Willow. Vonco only manufactures the Willow bag.
The bag measures approximately 9 in. H x 6 in. W. Keith Smith, Vonco President and CEO notes, "There are many challenges welding, transferring, and automating shaped, unsupported polyethylene products. Vonco uses proprietary processes to provide leak-proof medical fluid bags and spouted stand-up pouches."
The bag geometry had to fit into a confined space while still unfolding well enough not to hinder flow during filling. The bag material also needed to withstand drop tests. The tight geometry of the bag required precise placement of the one-way valve while maintaining a small seal size. This was required to maximize the bag size while minimizing the overall pump size.
The bag is manufactured with band seals on the outside and inside perimeters and on its valve that Smith says, "provide seal strength and security to allow the bag to remain durable and leak-proof."
He says the bag is flexo-printed in two colors, but considerable thought went into its consumer appeal. He explains, "Highly decorated [printed] products tend to dominate this category, but Apple has taught us that clean packaging design can be as impactful on the shelf and in the consumers' hand. Willow's milk bag has simple, clean, and functional graphics. The inks can be sterilized, and there's also a clean white area for mothers to write things such as date and time breast milk was pumped. A leaf shape that evokes a Willow tree establishes brand identity while leaving enough clarity for moms to have good visibility regarding quantity of milk."
Another plus is the bag's sustainability. Vonco's process requires no heat-resistant coatings, resins, or layers, making it (and its fitment) recyclable in the low-density stream.
Willow Gen 1.0 was introduced for sale in January 2018 notes Kelman. "It is the world's first truly mobile all-in-one pump that fits inside a mom's bra. Willow has a rechargeable battery that will last moms through five sessions [generally one-to-two days]. Notably, we are just now introducing Willow Gen 2.0 and that product began shipping Feb. 15."
She says, "There is nothing else like it in the market. Willow was designed to let moms pump on-the-go, wherever life may take them. Vonco has a special ability to manufacture unique shaped packaging. The Willow bag fabrication process required a level of dimension control beyond traditional pouching equipment."
Vonco produces the Willow milk bags and puts them into a clear outer 48-count "soft pack" pouch. These soft packs are then sent to Willow's distribution network for assembly into final pump kits for retail packaging. Willow pump kits and milk bags are sold exclusively through the company's willowpump.com website, where a 48-count soft pack retails for $23.99.
To read more about the other Gold Winners click on the links below:
https://www.packworld.com/article/sustainability-common-thread-among-fpa-award-winners
https://www.packworld.com/article/new-product-meets-unique-set-requirements
https://www.packworld.com/article/grain-free-dog-food-line-appealing-spot-coated-graphics
To view photos of the Silver Winners, go to pwgo.to/4022.
Companies in this article