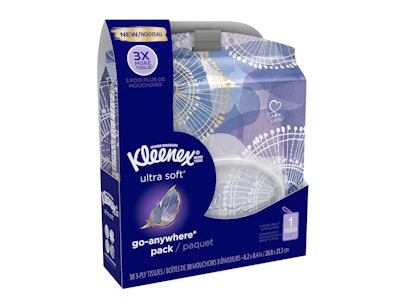 Kleenex has had a successful history of adding value to what is a fairly utilitarian product—facial tissue—through packaging innovation. Its newest product, the Kleenex Ultra Soft Go-Anywhere Pack, adds to the convenience of its film-wrapped slim packs for on-the-go use by providing more product, greater protection of the tissue, easier dispensing, and a snap strap that keeps the pack close at hand.
Says Rusty Zaspel, Senior Brand Manager for Kleenex Brand Facial Tissue, "Consumers have said loud and clear that they are always on the go, but hygiene continues to be an important concern, especially when away from home."
Roughly twice the size of the traditional on-the-go format—at 156 mm H x 125 mm L x 38 mm W—the Go-Anywhere pack holds 30 tissues and is made from a water-resistant, translucent film wrap. The film is a construction of low-density polyethylene laminated to oriented polypropylene and is printed in four different patterns, chosen from popular designs found on Kleenex Ultra Soft cartons.
To make product dispensing easier and to protect the tissues from the elements, the pack includes a thermoformed rigid flip-top made from semi-clear polypropylene that is positioned in the center of the pack. The snap strap, at the top of the pack, is a woven polypropylene ribbon. Both the sealable lid and the strap are applied using semi-automated processes, Zaspel explains.
Speaking on the functionality of the snap strap, Zaspel notes that it makes the pack more mobile, accessible, and convenient. "Since launching in May [2017], consumers have shared how the new format allows them to have Kleenex readily available in their car's center console and strapped to the back of the seat, in a child's backpack, in a purse, on a stroller, and on a towel bar in the bathroom, among other locations," he says.
Secondary packaging is a carton with a full back panel and most of the front die-cut to expose the product. Zaspel explains, "Based on consumer testing, the secondary packaging design was chosen to communicate the premium quality of the product inside and stand upright for a more compelling presentation on the store shelf."
The Kleenex Ultra Soft Go-Anywhere Pack is available at retailers nationwide, including Walmart, Target, ShopRite, Meijer, and Ahold as well as online at Amazon.com and Jet.com. The suggested retail price is $1.59 for a single pack and $4.99 for a four-count bundle.
Companies in this article