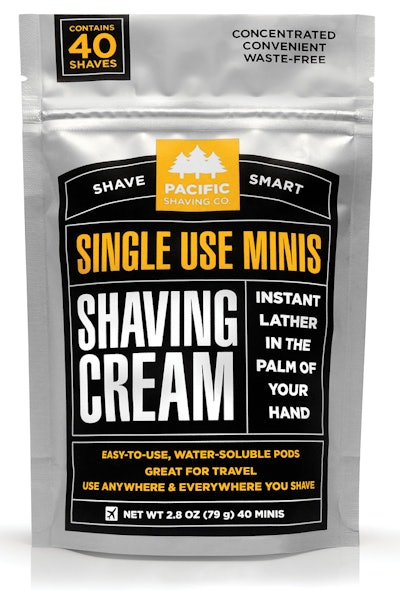 The company likes to shake things up with creative packaging approaches. In early 2017, Pacific Shaving began to roll out Single-Use Shaving Cream Minis, packaged in precisely measured one-pod-per-shave units. The pod dissolves with water in the palms to become a rich lather (go to pwgo.to/2754 to see a demonstration).
Concept and design for these single-use shaving cream pods was accomplished in-house by Pacific Shaving. The company uses a proprietary water-soluble film supplied by MonoSol, LLC. MonoSol specializes in customizing unit-dose applications for water-soluble film packaging.
The pods are marketed in 40-count stand-up pouches (now available in Target stores) with an average retail price of $7.99 per pouch. The stand-up pouches, printed in four colors with a matte finish, are manufactured by Excel Packaging. Actual product/package assembly is contracted to a proprietary service. The filled and sealed stand-up pouches are manually loaded in counts of 24 into corrugated cases for shipment.
Stan Ades, co-founder of Pacific Shaving Company, says, "With respect to form, function, and packaging, we have taken cues from adjacent market categories such as laundry detergents and automatic dishwashing soaps. Our Single-Use Shaving Cream Minis are simultaneously completely new and completely familiar to consumers. We expect the Minis to change the way people shave, particularly in a world ever striving for greater convenience."
Companies in this article