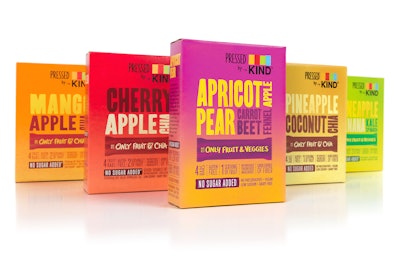 Pressed by KIND from healthy snack brand KIND is a new line of nutrition bars that are made with just
five ingredients or less, through a process that requires no preservatives or fillers. The new snacks are made from fruit, veggies, and chia pressed together into a bar. To communicate the unique attributes of the products, KIND turned to brand design agency Chase Design Group to leverage cues from the juicing category and create the image of simplicity, healthfulness, and freshness.
For a brand known for products with ingredients that consumers can recognize and pronounce, transparency has been a core component of KIND's packaging. However, maintaining shelf stability and the need to differentiate the product from the core product line made the design team rethink their approach. According to Jon Lesser, Senior Director of Marketing, KIND, "The big challenge that Chase Design Group addressed was communicating the ingredient story through packaging while preserving our brand recognition."
Says Clark Goolsby, VP, Creative Director, Chase Design Group, "The packaging features hand-drawn type, vibrant natural colors, and soft textures that are true to the lead ingredients in order to tell the story without showing the product."
Chase says the design strikes a balance between bold confidence and healthy snacking. The logo contains an interpretation of KIND's master logo and serves to create a sub brand that can stand on its own while visually relating to the parent brand.
The five different flavors of the Pressed by KIND bars include mango apple chia, pineapple coconut chia, banana kale spinach, apricot pear carrot beet, and cherry apple chia. They are sold individually and in four-count cartons in conventional, natural, and mass retail channels as well as at convenience stores and online retailers.
Companies in this article