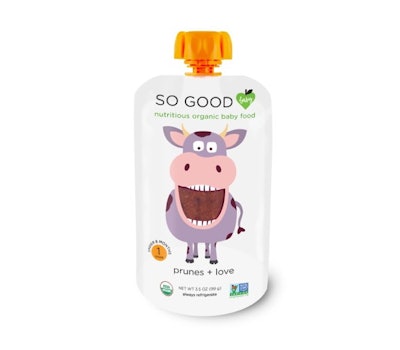 The High Pressure Processed (HPP) baby food category has taken off, with entrepreneurs introducing fresh, refrigerated products with an extended shelf life for parents seeking more nutritious food choices for their babies. In Q2-2016, one of the newest entrants to the category, So Good Brands Inc., introduced five fruit and vegetable purées in pouch packaging that takes transparency up a notch with a clear window on the front panel.
Minneapolis-based So Good Brands was launched in 2014, offering cold-pressed juices, dairy-free coffee beverages, dairy-free nut milks, and fresh smoothies preserved using HPP. Its founders, Rita Katona, CEO, and husband, Eric Hall, who had grown up eating foods made from fresh, organic produce, were motivated to form the company by their desire to make these types of products accessible to everyone.
According to Katona, the company's So Good Baby line of foods is different from its competitors' products due to its ingredients and So Good Brands' quality standards. "So Good Baby food is made using only whole, organic, non-GMO, nutritious ingredients, which are rigorously third-party tested against our unwavering quality standards—a 45-point checklist for potential contaminants—allowing us to control the safety of the baby food we produce," she explains. "This testing is a first-in-industry practice that goes beyond any existing Organic or Non-GMO certification or verification. In fact, we've been highlighted by the new Clean Label Project for this reason."
As a better-for-you food and beverage manufacturer, So Good Brands chose HPP to maximize the safety, nutrient content, and flavor of its products. "This is why we have partnered with [HPP equipment supplier] Hiperbaric to provide short- and long-term solutions for our HPP needs."
So Good Brands' baby foods are packaged in a 3.5-oz spouted flexible pouch, chosen for its more environmentally-friendly footprint versus glass or plastic containers. Although it is not recyclable, the company notes that the pouch has a lighter weight and size than a glass or plastic package, enabling more efficient packing and transportation.
The four-color flexo-printed pouch is made from a proprietary multilayer film structure chosen to withstand the immense pressure of HPP as well as resist discoloration from light. Says Katona, "So Good Baby worked to develop an exclusive package that is proprietary to the brand, preserving freshness while clearly showcasing its contents inside to give parents assurance on what they feed their little ones."
Each pouch features an illustration of an animal character—for example, Callie the Cow for prunes, Dave the Dog for Mango—to allow kids to get to know their favorite flavor by name. The animals are pictured with their mouths wide open, with a clear window inside the mouth showing the purée product inside.
The So Good Baby line is available at grocery locations nationwide as well as online at sogoodbaby.com. For e-commerce shipments, So Good Brands packs the pouches in recycled corrugated boxes with what it describes as environmentally-friendly insulation and recyclable frozen gel packs. The purées have a 60-day refrigerated shelf life.
Companies in this article