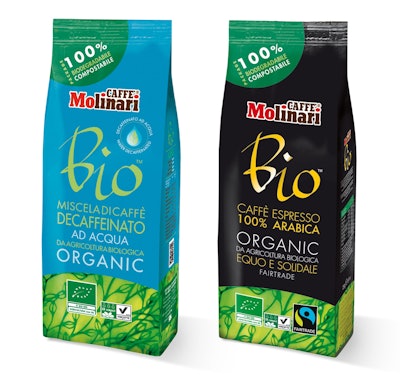 The coffee pack is constructed using two-layers: a white metallized high-barrier NatureFlex™ outer layer from Innovia Films laminated to a bio-polymer sealant inner layer. It's a combo that provides high seal strength and structural integrity.
Working in collaboration with Goglio, an international flexible film converter, these new coffee packs were developed specifically for Caffè Molinari. This innovative eco-friendly integrated packaging system using NatureFlex™ includes an aroma protecting bio valve, designed and patented by Goglio Plastic Division. The full pack construction with the valve complies with the EN13432 industrial composting norm and is certified to OK Compost's composting standard by Vinçotte.
"In order to satisfy our customers, who care for their environment and are health conscious, we have launched two Bio™ coffees in fully certified compostable packs," says Managing Director Giuseppe Molinari. "Working closely with Innovia Films and Goglio we have been able to launch this integrated coffee packaging system with a bio degassing valve into the market. So far we have had an excellent response from our customers."
NatureFlex™ films are certified to meet the American ASTM D6400 and European EN13432 standards for compostable packaging. They begin life as a natural product: wood that is sourced from managed plantations operating on good forestry principals. They also offer a host of advantages for packing and converting such as high seal strength and integrity; excellent gas, aroma, and UV light barrier; grease and chemical resistance; dead fold and anti-static properties; and enhanced printing and conversion.
Companies in this article