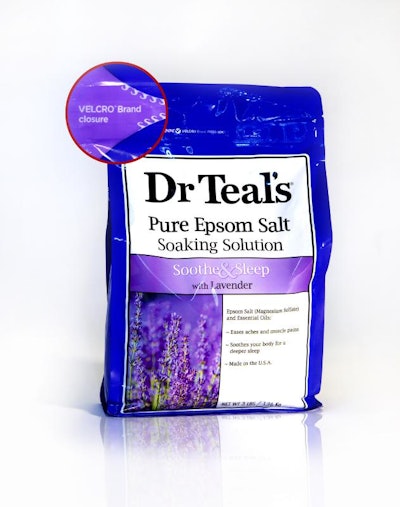 Dr. Teal's, part of the PDC brands family, has integrated the VELCRO Brand's PRESS-LOK® closure from Velcro Industries into the packaging of its range of Epsom salt bath soaking products—the first application of the VELCRO closure in the wellness and beauty category.
Dr Teal's prides itself on providing the best quality and cut of Epsom salt by using premium Magnesium Sulfate U.S.P. grade with essential oils. Utilizing PRESS-LOK ensures freshness while allowing for easy alignment and secure fastening, ideal for the packaging containing Dr Teal's fine-grain, therapeutic Epsom salts. PRESS-LOK is a proprietary closure that was developed for the fast-growing flexible packaging market. The closure offers easy alignment that allows consumers to fasten without precise line-up, securing the package with great burst strength.
"Partnering with Velcro…is a great fit for Dr Teal's Therapeutic Solutions," says James Stammer, CEO of PDC brands. "The addition of PRESS-LOK technology to Dr Teal's Epsom salt products ensures exceptional product quality each and every time!"
The closure is available on all of Dr Teal's Epsom Salt Soaking Solutions in the 3- and 6-lb bags. Dr Teal's is available in the bath section at mass-market retailers nationwide, including Walmart, Walgreens, and Target.
Companies in this article