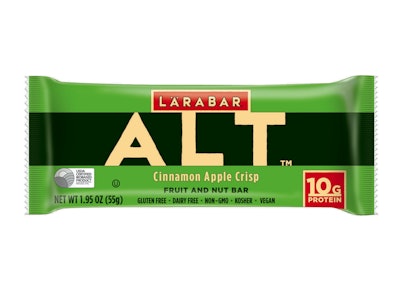 For the first pea-based, all-natural protein bar, whole foods snack-bar maker LÄRABAR of Denver recently collaborated with "a major film producer" to develop an equally natural packaging solution that meets the product's functional requirements. Introduced in early spring, new ALT, the Alternative Protein Bar, is packaged in a film wrapper constructed of a proprietary, non-GMO, plant-based material from a proprietary supplier.
The LÄRABAR company was launched in 2003 by entrepreneur Lara Merriken who initially developed the healthy snack-bar treats in her kitchen to meet the need in the market for "a convenient product made of whole foods without ingredients that defy pronunciation," says Peter Roose, Marketing Manager, LÄRABAR Brand. Since then, the company has expanded its offerings to 19 LÄRABAR flavors, six über varieties, and four JOCOLAT flavors.
LÄRABAR's newest product line, ALT, in four flavors, capitalizes on the growing popularity of protein-rich snacks, while offering natural ingredients. "There was a lack of protein bars in the marketplace with a natural source of protein," says Roose. "LÄRABAR was determined to fill this void with the introduction of ALT, which uses natural pea protein."
Because the LÄRABAR brand is about simplicity and purity, with ALT, the company sought to reinforce that message through its packaging. In looking at alternatives to traditional, petroleum-based films, LÄRABAR looked at several options, but none met their requirements. Explains Roose, "They had implementation challenges in the following areas: They did not meet our long-term sustainability strategy; they did not meet the sustainability needs of our key customers; and they did not meet our comprehensive technical requirements."
Functionally, the film needed to provide the required moisture and oxygen barriers, while meeting LÄRABAR's manufacturing requirements for throughput—"The same requirements we would pose on films without any renewable content," Roose says.
The packaging material ultimately selected meets these needs while being 31% bio-based. The film-wrapped bars are then packaged in a 100%-recycled paperboard carton, made using 100% wind energy.
Along with the launch of ALT, LÄRABAR also began a partnership with upcycler TerraCycle, which collects the wrappers and turns them into green products, such as binders, backpacks, park benches, and more. "We wanted a way to keep our wrappers out of landfills," says Roose.
Regarding the question of whether the new bio-based material might be used for LÄRABAR's other brands, Roose says: "LÄRABAR has embraced the journey to a more environmentally sustainable offering in the marketplace. Every journey begins with a first step, and in the case of packaging film, this is a great first step."
Companies in this article