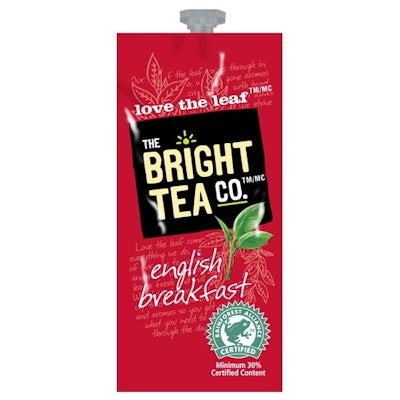 Single-serve hot drinks in the office have just got more sustainable, thanks to the new recyclable Freshpacks from Mars Drinks North America for the Flavia single-serve brewing system. Through packaging innovation, the new recyclable materials are said to reduce the carbon footprint of the Freshpack package by 40%. If the Freshpack is recycled, this lowers the carbon footprint even further to 44% overall, according to data from an independent life-cycle analysis conducted in July 2011
The packaging innovation enabled the removal of an aluminum foil layer from two of the Flavia single-serve Freshpacks, as well as a move from three materials to a single, fully recyclable plastic. The Bright Tea Co.'s Earl Grey and English Breakfast teas will be the first products in 100% recyclable Freshpacks, available nationwide in fall 2012.
According to Mars Drinks, this is a major development on the company's Path to Sustainability, with the company aiming to make all Mars Drinks Freshpacks 100% recyclable by 2015. Says Mars Drinks sustainability director Kate Wylie, "This is a big step for single-serve sustainability and reducing the impact of our products. As part of our Path to Sustainability we are committed to innovation and are always looking for new ways to enable us to become more sustainable, while supporting our customers in doing the same. This is a great achievement, and one that we will continue to build on in the future."
Recycling of the Freshpacks is supported by the wider Mars Drinks Recycling Program, partnering with TerraCycle. TerraCycle can collect and recycle the new Freshpacks, resulting in plastic that can be used to make products such as office stationery and garden furniture.
Companies in this article