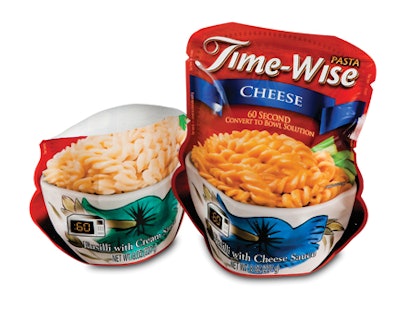 The FPA, which honored the pouch with a Gold Award, describes it as offering "the ultimate in flexible packaging convenience: lightweight packaging, long-lasting ambient-temperature shelf life, and a handy heat-and-eat experience. Heat-free handles make it comfortable to grip the package after 60 seconds in the microwave, and laser scoring along the centerline converts the pouch into a stable, comfortable-to-use bowl."
The Time-Wise Bowl Pouch was introduced commercially for rice and pasta meals by Dainty Foods, a division of MRRM (Canada) Inc., a well-known food company for more than 120 years. The attractive pouches are easy to store and self-contained, making the Time-Wise product lines good for lunch at the office, for an after-school snack, or for a convenient meal.
CLP Packaging Solutions, Inc. produces the pouch at its factory in Israel, on pouch-making equipment from Totani. CLP says the pouch structure is a barrier laminate construction that combines PET-G (glass-coated PET) and PP (polypropylene) with a sturdy layer of biaxially oriented nylon to create enough stiffness to reinforce the bowl. The back of the pouch is printed with instructions in English and French. Pouches are subsequently shipped to Dainty Foods for filling and top sealing.
The pouch "represents the convergence of shaped pouch technology, microwaveable laminates, and precision laser scoring to deliver a stiffened, wide-mouthed eat-in pouch," explains Tamar Sholdiner, CLP account manager. "The Time-Wise Bowl Pouch includes a shaped silhouette that is both eye-catching and practical, creating a stable, wide-mouthed bowl."
The pouch includes two laser scores that make it easy to use, without the need for scissors or knives. An upper score is opened to vent the pouch during microwaving, or to dispense the contents into a pan for stovetop heating. After heating, consumers tear the lower laser score, which is about midway down the pouch, to create a sturdy bowl. The bowl design was developed by co-packer CSM Alimentos SA de CV of Mexico, which came to CLP during the process.

Companies in this article