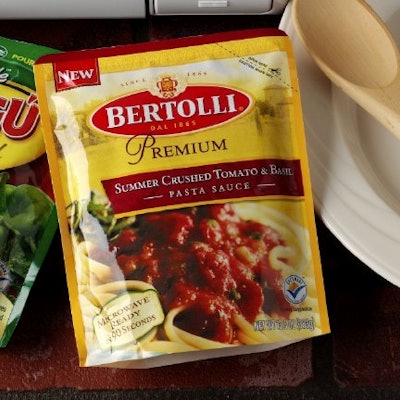 Speeding prep time for everyday family meals and for more special dining occasions, such as stay-at-home date nights, is the goal of new Ragú Fresh & Simple and Bertolli Premium brand pasta sauces in a new microwavable pouch format. Launched by Englewood Cliffs, NJ-based Unilever in March, the single-use, flexible standup pouch provides 13.5 oz of sauce in three Ragú and three Bertolli varieties, microwave-ready in 90 sec.

"According to a recent survey, 57 percent of individuals said it is difficult to find a meal that is both nutritious and convenient to prepare in under 30 minutes," says Ragu senior brand manager Gail Conroy. "New Ragu Fresh & Simple and Bertolli Premium pouches meet the growing needs of today's busy dynamics by providing convenient and nutritious, quick and easy meals that people can enjoy."

Regarding the specifics of the pouch, Conroy declined to answer any questions, but she assures that "the proprietary form of packaging technology is safe for consumers." As noted, the pouch uses a standup format and has a clear-bottom gusset that allows consumers to view the sauce inside. The pouch's front and back panels gleam with glossy graphics that build on the Ragú and Bertolli brand equities.

With a green-and-red color scheme and fresh-from-the-farm graphics, the Ragú pouch uses icons and the words "clip it, pop it, pour it," at its top to instruct consumers on heating the sauce. The Bertolli pouch, with a golden-yellow background, uses more sophisticated, Italian architecture-inspired illustrations and, with a subtle scissor graphic, indicates that the top corner of the pouch should be removed for heating and pouring.

Meant as a supplement to—rather than a replacement of—Unilever's jarred sauces, the pouches have a nine-month shelf life, and provide two to three servings of sauce for a cost of $2.12 and $2.89 per pouch, for Ragú and Bertolli, respectively.



Companies in this article