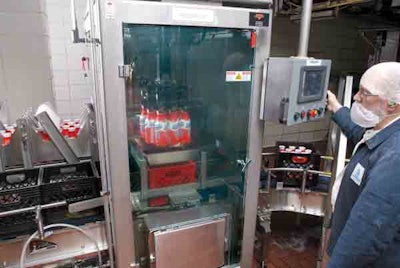 Dean Foods' plant in Chemung, IL, produces and packages the company's popular "Milk Chug" products in half-pint, pint-, and quart-size high-density polyethylene bottles. As production of these dairy beverages has kept growing to meet market demand, Dean Foods needed to find a way to diversify the Chug packaging lines to accommodate the increased volumes.
During 2006, Dean Foods undertook two automation projects with AMF Automation (www.amfautomation.com) to address the desire for greater versatility in the casing and palletizing operations at Chemung. One project involved the installation of a new automated case/crate loading system for quart bottles of Milk Chugs and half-gallon non-Chug dairy bottles; and the other involved installation of a new robotic palletizing cell to handle shrink-wrapped trays of pint-size Chug products.
Steve Hiser, director of engineering and maintenance at Dean Foods, recalls, "The casing equipment we had been using for the quart-size Chug bottles never really fit the application because of a design flaw, and we also knew that it wouldn't be able to handle the half-gallon bottles."
The dairy investigated various options and determined that AMF's VersaPak case loading system (a two-axis coordinated-motion gantry robot) would be a good fit for the Chugs application. It features a ControlLogix controller from Rockwell Automation (www.rockwellautomation.com). The programmable logic controller (PLC) interfaces directly with the robot's motion controller. In addition, the system combines high-speed operation, mechanical-grip pick-and-place precision, and high flexibility in a small footprint.
Hiser notes, "The VersaPak system allows us to run two completely different packages (quart Chug and half-gallon non-Chug bottles) through a high-speed caser at speeds up to 250 bpm—which was a major objective for us as we evaluated our options."
Pint Milk Chug bottles are loaded in counts of 12 into corrugated trays, shrink-wrapped, and stacked 128 trays per pallet. Hiser says, "The robot from KUKA Robotics Corp. (www.kukarobotics.com) that AMF installed has given us a palletizer for pint trays that is much more cost-efficient to run than mechanical alternatives. We haven't quantified savings to date, but we have much lower maintenance costs associated with the robot."
Dean purchased a Dimac St@r30T wrapper from Aetna Group USA (www.aetnagroupusa.com) to perform the tray shrink-wrapping operations. The film used is 2-mil shrink-wrap film from Tyco Plastics (www.tycoplastics.com). All the new equipment involved in the project upgrade was integrated by Integrated Packaging Machinery (IPM) (www.callipm.com). AMF technicians conducted training of plant workers on operation of the new robotics.
Chugging merrily along
Dean Foods is well satisfied with the results of the automation upgrade at its Chemung facility. According to Hiser, "Changeovers are now faster and easier to accomplish with the new, more flexible system. We have enhanced our ability to meet increasing production output targets more efficiently and cost-effectively."
He adds, "I believe the most important benefit of these two new automated systems was AMF's willingness to listen to not only what we needed, but wanted, and then delivered it. This was our first dealing with AMF, and I can't say enough about the engineering expertise and the commitment to the final product."
Companies in this article