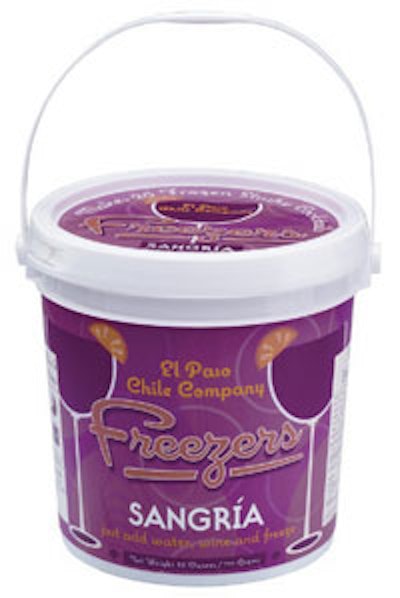 It now packages freezer drink mixes under its own brand as well as private-label offerings in 1-gal high-density polyethylene SmartSeal® containers from Letica Corp.
The containers feature tamper-evident snap-on lids and built-in carrying handles. Offset-printed plastic body labels and flexo-printed pressure-sensitive film lid labels are converted by Guynes Printing Co. They're hand-applied at the El Paso Chile plant. The packaged, shelf-stable drink mixes are marketed through department stores and specialty gourmet gift shops.
Each gallon bucket contains a pouch of dry sugar and a pouch of liquid flavor concentrate. Consumers simply mix these ingredients with a 750-ml bottle of tequila, rum, wine, or vodka, depending on the flavor variety selected, and fill the rest of the bucket with water. For consumers who prefer a non-alcoholic cocktail, club soda or ginger ale can be used to replace the spirits in the beverage preparation.
The filled bucket then is placed in the freezer for approximately eight hours to render about 20 servings of slushy cocktails. Flavors include Margarita, Strawberry Margarita, Cosmopolitan, Lemon Drop, Rum Runner, Sangria, Mojito, Appletini, Pina Colada, and Fuzzy Navel. For the upcoming holiday season, El Paso will introduce Cranberry Margarita, Egg Nog, Peppermint, and Chocolate Martini varieties.
The SmartSeal containers have helped the freezer drink mixes become one of El Paso Chile's top-selling product lines. El Paso co-founder and product designer Park Kerr comments, "Letica containers are attractive, and the safety-seal closure system is particularly important to our customers, distributors, and to us." —Judy Rice
Companies in this article