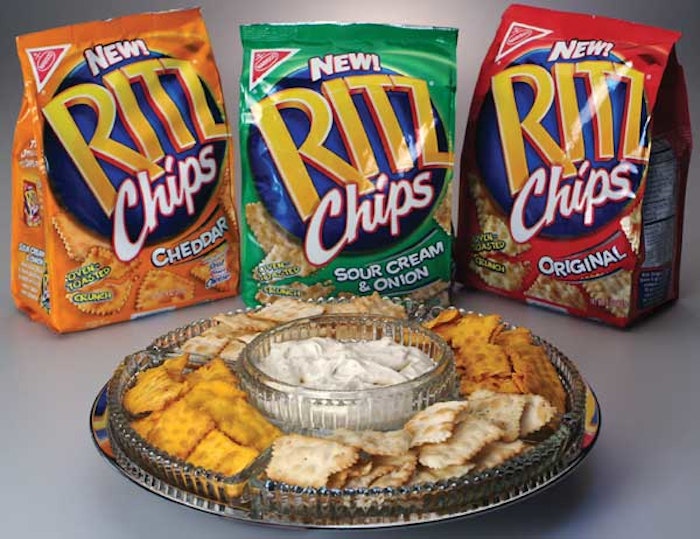 Gold Award:
Ensure Ready to Drink Reclosable Plastic Bottle
(see packworld.com/go/c111)
Ross Products,
Div. of Abbott Laboratories
Crown Cork & Seal, Owens-Illinois Plastics Group, American Fuji Seal, Bemis Flexible Packaging, Weyerhaeuser, Innovations & Development, Inc.
Structural design of six-layer barrier
bottle provides strength against stress encountered during retort.
Silver Award:
Flexplay Enabled ez-D DVD
(see packworld.com/go/c113)
Flexplay Technologies Inc.
Cryovac Food Packaging Div.,
Sealed Air Corp.
Oxygen-scavenging technology keeps movies inert until package is opened,
at which time the movie can be viewed for 48 hours and then it fades away.
Silver Award:
Heinz Premium Condiment Stand-Up Pouch
(see packworld.com/go/c114)
Heinz
Alcan Packaging
Condiment package offers enhanced graphics area and represents an upscale alternative to glass jars or conventional squeeze packs.
Silver Award:
Aquafresh Floss'N'Cap Laminate Toothpaste Tube
(see packworld.com/go/c112)
GlaxoSmithKline
Alcan Packaging Cebal Americas,
Nypro Inc., Perident, Inc.
Combination toothpaste tube, flip-top cap, and floss dispenser all in one.
See the story that goes with this sidebar: 2004 DuPont Award Winners
Companies in this article