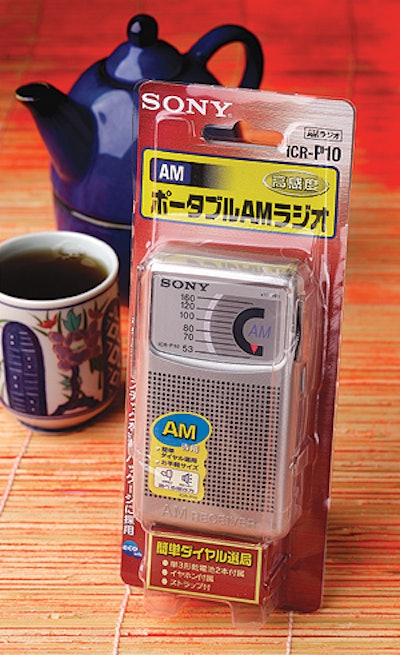 Introduced last July, the LCR-P10 AM radio's blister pack provides point-of-sale differentiation, clarity, and environmental advantages.
The blister is shaped so that it tucks neatly and firmly into die cuts on the back of a paperboard backing card. This is what holds the blister to the paperboard.
The paperboard header card touts the environmental aspects of the material with a blue "eco info" mark that Sony has employed since December '00 to give customers access to environmental information concerning its products. The symbol appears on the front and back of the card. The green symbol (left) is Japan's GreenPLA designation, which identifies the packaging as environmentally beneficial, with compostable physical characteristics.
Sony's first use of PLA was for a film wrap used for a line of mini audio discs (see Packworld.com/go/c062). That package was the first to receive the GreenPLA designation.
According to Cargill Dow, the radio pack received The Packaging Technology Award sponsored by the Japan Packaging Institute. More recently, Sony expanded its use of the polylactic acid material in packaging used for a pocket cassette player/radio. —JB
Companies in this article