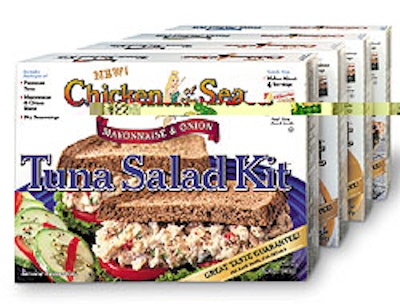 Tailored for the busy lifestyle of today's consumers, pre-measured ingredients are packed to make it easy to prepare fresh tuna salad for the whole family.
Don George, COS senior vice president of marketing, says the shelf life of the pouched tuna is five years, just like a can. The company declines to identify the structure and the printing process of the foil-laminated, vacuum-sealed tuna pouch. The pouch is supplied by three firms, two in Japan and one in the United States.
According to George, the kit has a nine-month product shelf life only because the flavor breaks down in the pouched condiment. "We are working on a new condiment pouch technology that will provide longer shelf life," says George. Three condiments including a proprietary blend of flavored mayonnaise or salad dressing, and dry seasoning are packed in polyethylene bags supplied by Cryovac (Duncan SC). They're co-packed by a supplier COS prefers not to divulge.
According to George, one of the biggest challenges was making the outer carton grab consumers' attention. It does so with the help of The Design Company (San Francisco, CA) and Rock-Tenn (Norcross, GA), supplier of the 16-pt. board.
"We've had a lot of positive feedback on the package," says George. "It really has accomplished what we have set out to do. The package design and photography incorporate the brand and appetite appeal."
The four packaged components are packed by COS at its San Pedro, CA, plant. The tuna salad kit comes in four varieties, each providing four servings, and sells for $2.79. (EF)
Companies in this article