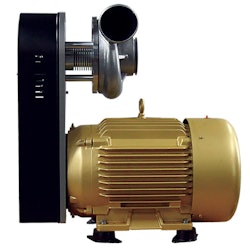 It will be one of the products featured at Republic Mfg.'s PACK EXPO Connects virtual booth.
The best in class Republic RBX Centrifugal Blower line is designed for efficiency, endurance, and optimal performance in high-demand pressure and vacuum applications. RBX blowers are perfect for drying applications, pick and place, debris removal, leveling coatings, and vacuum hold down.
The design of the RBX is where the innovation truly occurs. The impeller, volute, and bearing housing assembly work together to allow the blower to conserve energy while optimizing air flow and lowering temperatures. This design allows the blower to achieve higher pressure utilizing less horsepower, making it the only product on the market with such efficiencies at the blower's operational performance points. The design also provides a longer blower life (up to 8 times the blower life of traditional centrifugal blowers) and reduced maintenance.
Republic will showcase the RBX-250 during a live demo November 12 and 1:45pm. The demo is titled "Blower and Pump Innovations to Save Money, Energy, and Downtime". It can be added to the attendee schedule by clicking here.
---
PACK EXPO Connects–November 9-13. Now more than ever, packaging and processing professionals need solutions for a rapidly changing world, and the power of the PACK EXPO brand delivers the decision makers you need to reach. Attendee registration is open now.
---
Companies in this article