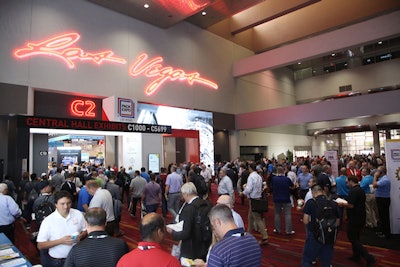 This content was written and submitted by the supplier. It has only been modified to comply with this publication's space and style.
The packaging and processing worlds will experience a dynamic convergence of innovation, ideas, and connections at PACK EXPO Las Vegas (Sept. 11-13; Las Vegas Convention Center), the most comprehensive exhibition in North America this year. Produced by PMMI, The Association for Packaging and Processing Technologies, PACK EXPO Las Vegas will offer attendees an opportunity to see machinery in action, discover the latest materials, hear from experts, experience innovations firsthand, gain insights into critical manufacturing trends, and discover solutions for an industry that touches every segment of our world.
With 30,000 attendees expected to explore 2,300 exhibitor solutions spanning nearly 1 million sq ft of exhibit space, PACK EXPO Las Vegas is the premier destination to witness cutting-edge packaging and processing solutions, with suppliers showcasing diverse innovations for more than 40 vertical markets making it the show's largest to date.
"Our theme is 'Expect Innovation' because this show will provide more solutions and innovations under one roof than available anywhere else in North America this year," said Jim Pittas, president and CEO, PMMI. "PACK EXPO Las Vegas also offers our industry a chance to examine critical issues such as sustainability, AI, automation, and workforce in an environment that fosters collaboration and growth."
PACK EXPO Las Vegas 2023 is the only event this year that will showcase entire production line solutions, offer 130 free educational sessions, and provide attendees with everything needed to compete in a changing marketplace. Offering more features than ever before to address unprecedented demands on the industry, show attendees can use My Show Planner to search for products and exhibitors, view the schedule of educational sessions, and even schedule appointments with exhibitors prior to heading to Las Vegas. Downloading the PACK EXPO Las Vegas mobile app, sponsored by ProMach, from the Apple Store or Google Play, provides on-the-go access to floor plans, exhibitor listings, special events, new products, and product categories, as well as the ability to plan an agenda, take notes, and navigate the show halls.
"We equip attendees with tools like 'My Show Planner' and the mobile app so that they can take a show our size and turn their experience into a choose-your-own adventure of sorts," said Laura Thompson, vice president, trade shows, PMMI. "Whether you're seeking new solutions, looking to exchange information and ideas, or networking for professional growth – you can tailor your experience to fit your needs."
PMMI recognizes the significance of PACK EXPO Las Vegas 2023 opening on Sept. 11 and strives to honor the men and women who gave the ultimate sacrifice that day. PMMI will match donations up to $50,000 to the Tunnel to Towers Foundation. For over 20 years, the Tunnel to Towers Foundation has honored the late FDNY firefighter Stephen Siller's legacy by supporting the heroes who continue to risk life and limb in the line of duty. To date, Tunnel to Towers has delivered over 1,000 mortgage-free homes to our nation's heroes and committed over $500 million across all its programs. Attendees can donate to the organization when they register as well as online.
New and Expanded at PACK EXPO Las Vegas
• Sustainability Central: This new and highly anticipated show floor destination takes an expansive look into packaging sustainability and what it means to brands, including interactive content, and a look at actionable sustainable solutions in manufacturing, materials, and design. Located in the North Hall, Booth N-9455.
• Sustainability Stage: Attendees will hear from industry experts on a range of packaging sustainability topics and gain insight on making their brands more sustainable in the future. Located in the North Hall, Booth N-9967.

• Industry Speaks Stage: Experts from the Association Partner Program, covering multiple industry vertical markets, will address the latest hot topics and industry trends such as sustainability, remote access, supply chain solutions, augmented reality, and operational efficiency. Located in the Central Hall, Booth C-1141.
• The Logistics Pavilion: Logistics is a crucial part of the product journey from manufacturer to consumer — and among the top five searches on the PACK EXPO website. With the boom in e-commerce, The Logistics Pavilion in the North Hall will be the place to find targeted solutions related to the supply chain, including warehousing, fulfillment, distribution logistics services, and transportation providers.
• The Processing Zone: The integration of processing and packaging in the manufacturing environment is more important than ever, and the Processing Zone returns to PACK EXPO Las Vegas 50% larger than it was in 2021. It is a great place to start a search for front-of-the-line solutions such as homogenizing, heat treating, forming/sizing, and coating. Located in the North Hall.
• The Healthcare Packaging Pavilion: New format, same great destination. Life sciences is an important focus for PACK EXPO Las Vegas, and this "show within a show" on the lower level of the South Hall will house innovations for pharmaceuticals, biopharmaceuticals, nutraceuticals, and medical devices.
Returning Show Pavilions
In addition to the Logistics Pavilion, the Processing Zone, and the Healthcare Packaging Pavilion, several other exhibitor groups are organized in pavilions.
• PACKage Printing Pavilion features cutting-edge digital printing and converting, labeling, coding, and marking technologies. Discover technology that makes smart packaging, customization, promotions, small runs, and on-demand more cost-effective. Located in the North Hall.
• The Containers and the Materials Pavilion: Discover new packaging materials and containers for a brand refresh, a boost in sustainability or recyclability, e-commerce-friendly solutions, or ways to make your products more convenient for consumers. Located in the North Hall. Also located in this pavilion is the Showcase of Packaging Innovations®, sponsored by WestRock, an attendee favorite that will display award-nominated packaging solutions. Located in North Hall, Booth N-9550.
• The Confectionery Pavilion, located in the South Upper Hall, will feature the latest trends relating to aeration, batch refining, shaping, cluster production, and other candy-making technologies. Sponsored by the National Confectionery Association, this pavilion provides an opportunity for attendees to network and gain valuable insights. Come and recharge at the Candy Bar Lounge, Booth SU-7201, hosted by the National Confectionery Association and sponsored by Syntegon, Booth C-2800.
• The Reusable Packaging Pavilion, sponsored by the Reusable Packaging Association, will present sustainable packaging solutions to help reduce waste, cut costs, and gain supply chain efficiency. Explore reusable transport packaging products and services and see innovative reuse solutions. Located in the South Upper Hall.
• The Workforce Development Pavilion is a one-stop shop for resources to strengthen the workforce. Learn about PMMI U offerings, including popular training workshops, and meet students interested in careers in the industry. Located in the North Hall, Booths N-9000–N-9026.
• Association Partner Pavilion: The Association Partner Program connects attendees to leading associations from all segments of packaging and processing to share valuable industry knowledge and Located in Central Hall, Booths C-1145–C-1354.
Educational Sessions
The show will have 130 educational sessions focusing on critical and timely industry issues taking place at the following interactive stages.
• The new Sustainability Stage and Industry Speaks Stage.
• The Innovation Stage: Explore new technologies and best practices in fast-paced, 30-minute presentations by suppliers and topic experts. Some topic areas include robotics, automation, AI, and of course, sustainability.
• Processing Innovation Stage: Located in the Processing Zone, the Processing Innovation Stage will include 30-minute, information-packed presentations about trends, new ideas, and advances in food and beverage processing.
• The Forum: 45-minute interactive sessions that provide the opportunity to discuss new ideas and collaborate on solutions to widespread issues and trends such as digitalization, cyber security, sustainability, automation, and integration of cobots into manufacturing. Each session begins with a presentation before participants are invited to discuss the issue further in small roundtables.
• Reusable Packaging Learning Center: Hear real-world stories about the benefits, ROI, and points of consideration for companies switching to reusables from suppliers of reusable assets, subject experts, and end users.
Student Opportunities

PACK EXPO Las Vegas offers programs and activities aimed at getting students excited about careers in packaging.
• Future Innovators Robotics Showcase – See Las Vegas-area high school robotics teams showcase their design, engineering, and troubleshooting skills. Sponsored by Bastian Solutions. Located in the North Hall at Booth N-9769.
• The Amazing Packaging Race – In this fun and educational event, teams from colleges and universities in North America race around the PACK EXPO Las Vegas show floor to complete tasks at the booths of participating exhibitors. Sponsored by Emerson, Booth SL-6107.
• CareerLink Live – CareerLink, PMMI's online job board, is going live at the show. This is an opportunity for PMMI members and CPA, OMAC, and IoPP member companies to meet with students and veterans pursuing careers in packaging and processing during onsite one-on-one informational interviews.
The Technology Excellence Awards

These awards will recognize the most innovative technologies not yet shown at a previous PACK EXPO. Attendees can vote onsite, on the app, or online in four market segments. Winners will be announced Tuesday, Sept. 12 in the afternoon.

PACK EXPO Green
As part of our commitment to sustainability, the PACK EXPO green icon identifies exhibitors offering sustainable products and services and educational sessions about sustainable topics. For more information about our commitment to sustainability, visit here.
To learn more and to register, visit packexpolasvegas.com.
Companies in this article