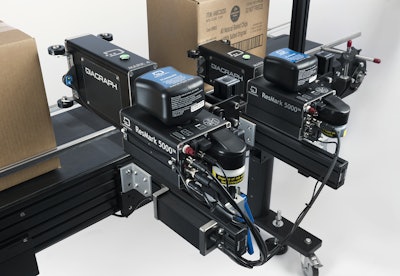 Diagraph's ResMark 5000 inkjet coder features 2-inch Mark 2 and 4-inch Mark 4 print heads. This high-resolution coding printer for end-of-line packaging applications serves a variety of industries include food, beverage, building, pharmaceutical, personal care, cosmetic, automotive, and industrial.
The ResMark 5000 was designed to serve customers in need of sharp high-resolution prints with the most forgiving of throw distances on secondary packaging and cases. The leading piezo print engine technology enables manufacturers to operate the printer 24 hours a day, 7 days a week, 365 days a year, even in the harshest of industrial environments.
Ryan Williams, Diagraph Product Manager, said, "We believe the ResMark 5000 offers a remarkably intelligent solution for manufacturers looking for a simple, flexible, reliable and efficient inkjet coder at a lower cost of ownership over the life of the system. This new intelligent system was engineered to meet manufacturers' coding requirements and provides best-in-class marks on end-of-line secondary packaging cases, cartons and tray packs."
Features of the ResMark 5000 include its patented quick disconnect print head that can be brought online quicker, reducing production line disturbances and repairs while minimizing downtime. Because the system is independent of an HMI, it offers the ability to continue printing until a message change is required on a production line. Wireless connectivity of the ResMark 5000 is a standard feature of the print head. ResMark 5000 can be easily installed and allows a single production line to be daisy chained with up to eight Mark 2 and/or Mark 4 print heads. The streamlined design of the ResMark 5000 requires a minimal footprint on the production line.
Companies in this article
Videos from Diagraph, An ITW Company