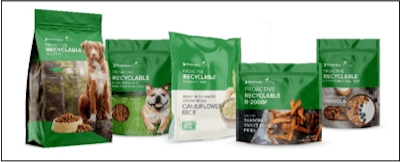 "We first introduced ProActive Sustainability® at 2018's PACK EXPO in Chicago, and we are thrilled to be back," states Adam Grose, chief commercial officer for ProAmpac. "Since the original launch of ProActive Sustainability, ProAmpac has expanded our line of sustainable packaging products, including our ProActive Recyclable® solutions. We invite attendees to visit ProAmpac's booth and meet our technical, commercial leadership team members to learn how we can support you meet or exceed your sustainability goals," continues Grose.
Attendees can see the full line of ProActive Recyclable® R-2000 series, including:
• R-2000S: Recyclable Film for Microwave Steaming Applications
• R-2000F: Recyclable Film for Frozen Food Applications
• R-2000D: Recyclable Film and premade pouches for dry applications
• QUADFLEX® Recyclable flat-bottom quad bags
• Recyclable Paper Touch, part of the Signature Surfaces line of surface modifications
In addition to ProActive Recyclable, ProAmpac's ProActive Sustainability offers flexible packaging in three other product groups:
• ProActive PCR® incorporates post-consumer recycled (PCR) content to the package to meet brand sustainability goals.
• ProActive Renewable® is packaging that incorporates bio-based resins.
• ProActive Compostable packaging degrades in a biologically active compost environment.
ProAmpac's fresh food to-go suite of products is designed for sustainability and built for performance.
The modern format keeps food fresh and offers an elevated appearance in either a hot cabinet or chiller. Also, by weight, the largest component of ProAmpac's fresh food to-go packaging is paperboard and paper sourced from sustainable certified forests, which is widely recyclable in fibre streams. This packaging range includes: Sandwich Packs; HandRaps; SoftPacks, and Trays. Also on display at the show will be RecycAll Freshpack, ProAmpac's all-fibre sandwich skillet.
"ProAmpac's fresh food to-go packaging has been used in the UK and Europe fresh food market for decades. We are pleased to bring these products to North America. I will be presenting on how fresh food to-go packaging can support the circular economy on the Innovation Stage, Wednesday, October 26that noon," states Nathan Klettlinger director of global marketing for ProAmpac.
Companies in this article