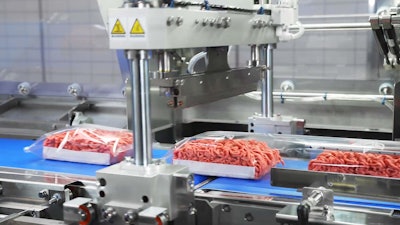 Formost Fuji's booth will feature four different horizontal flow wrap models and a state-of-the-art bagging machine. A pick-and-place robot, by JLS Automation, will feed product into a Formost Fuji flow pack wrapper to demonstrate the efficiency of robotics and the simplicity of adding automation to the wrapping line.
Formost Fuji and Reiser have combined equipment to provide a solution for packaging ground meat. The system will be on display in the Formost Fuji booth to demonstrate ground meat being packaged without a tray. Removing this from the packaging line reduces operations costs and carbon footprint by eliminating the need to purchase, ship, store, and handle the trays.
With the Formost Fuji ground meat system, the paper or absorbent pad can remain under the ground meat while it is gently transferred to the conveyor and into the flow wrapper. This positive change will not only provide a "green" packaging line but will pay for itself over a short period of time.
Along with reducing expenses, consider the benefits to the environment. Non-recyclable polystyrene trays are a huge part of the problem for waste and recycling. Eliminating the polystyrene from the packaging process is an important step for processors to take as we all strive for greener operations.
The ground meat wrap produced by this system has excellent seal strength for product protection as well as maintaining package integrity, all while creating a smaller package that takes up less room on store shelves. The consumer will find this package easy to use with the ability to remove the product without having to handle the contents.
"We are excited to be a part of something that will have such a large impact on improving our environment, while at the same time reducing operating costs" said Dennis Gunnell, President, Formost Fuji. He added, "There are a lot of benefits to this system that really add up to a green, cost effective, and high-quality packaging line".
"We have waited four years for an "in person" PACK EXPO International show, with a lot of challenges and changes during that time, so we are looking forward to seeing everyone in person to demonstrate the new innovations and packaging solutions that Formost Fuji has to offer," said Angela McDaniel, Marketing Coordinator at Formost Fuji.
Companies in this article