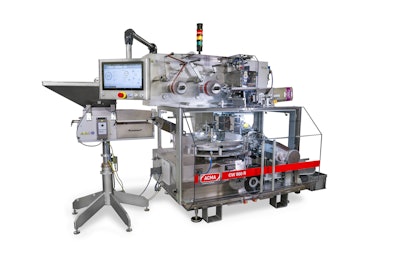 ACMA will take part in the Chicago show as part of Coesia. Coesia will present machines and products designed to increase the reliability and efficiency of production processes in three areas dedicated to food and beverage, pharma and personal care, and cross industry automation. It will also launch the re-commerce project, proposing itself as a solid interlocutor for those companies looking for automatic solutions for the management of orders from online channels.
The CW 800 (shown), a machine for the wrapping of spherical chocolate pralines, will be shown in the version dedicated to the double twist style. A particular feature of the machine on display at PACK EXPO will be OptiMate, a Coesia proprietary PLC solution (both software and hardware). OptiMate makes it easier to change format and maintain the machine, thanks to the intuitive interface and guided procedures. The version on show in Chicago will be set up in premium mode and will be featuring further advanced characteristics compared to the standard version, including the ability to perform a production analysis through detailed reporting and advanced diagnostics for predictive maintenance.
Ecoshell is characterized by an innovative design that allows, through an aesthetically refined solution, to enjoy an optimal dosage of the product and a great ease of use. Ecoshell is scalable in size and proportions and is suitable for different commercial purposes, depending on the type of product to be packaged. For example, it can be used for gummy candies and chewing gums, but also for cotton buds or supplements, extending their use to areas such as cosmetics or pharmaceuticals.
Companies in this article