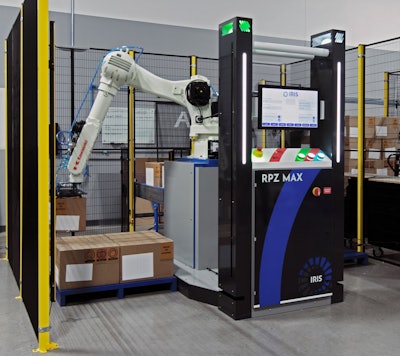 Equipment to be showcased includes:

• NEW—High speed, heavy payload palletizing cell
Kawasaki partner IRIS Automation is unveiling its pre-configured RPZ-MAX palletizing cell (shown) that utilize Kawasaki R series robots to handle heavier payloads and faster rates while still maintaining a user-friendly interface and small footprint. With payloads up to 80 kg and cycle times of approximately 6 sec, the RPZ-MAX utilizes a user-friendly drag-and-drop pallet builder interface while maintaining a minimal footprint and sleek design. Discover the RPZ Max cell provided by IRIS Automation displaying an industrial palletizing solution using a Kawasaki R series robot. Showcasing a variety of palletizing configurations, this cell also offers intermittent slip sheet placement, label orientation and verification, a flexible end-of-arm tool, and an HMI interface for attendee interaction.
• NEW—Pre-Engineered Delta Pick & Place Cell
Kawasaki and PSA are debuting the Sniper Cell that will be equipped with an ultra-high speed Kawasaki Y series delta robot to perform a pick and place application using vision sensors and conveyors. Kawasaki partner PSA's Sniper Cell is designed for high-speed, vision-guided pick and place, case packing, carton loading, kitting and assembling applications. Its pre-engineered, modular design provides flexibility with a minimized footprint to easily fit into existing or new production lines. The Sniper Cell is known for enhancing packaging assembly lines, making them more standardized, scalable and user friendly.
• Eliminate Laborious Bin Picking Tasks
Bin picking processes are known to be laborious, tiring, and even dangerous in some situations. These tasks are suited for automation in nature but can be challenging to automate due to factors such as shifting part locations and complex path calculations. Kawasaki has developed a bin picking solution that can save users both time and money. Using Canon's leading optical processing technology, Kawasaki's new RS013N robot will pick and sort random parts from a bin to a conveyor.
• Small-Scale Packing with Vision & Area Scanner
The high-speed, high performance RS007L robot will also be featured in a multi-pattern pick & place packing cell with fully integrated vision and area scanner for operator interaction. The RS007L offers the fastest operating speed in its class, a small footprint and vision compatibility resulting in greater packaging flexibility for the food industry.
• Flexible Bag & Box Palletizing Without Tool Changes
A high-speed CP180L robot capable of industry- leading palletizing rates of 2,050 cycles per hour will insert slip sheets, palletize bags and boxes ranging in weight and size, and switch out pallets. The robot is equipped with a multi-function Piab tool, which enables the robot to complete all of these tasks without changing tooling.
Companies in this article