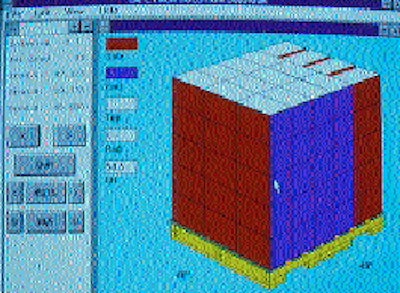 Within 24 hours after first operating its new packaging analysis software system, weaver popcorn had revised its case packing and pallet stacking methods to the tune of $40ꯠ in annual savings.
The Van Buren, IN, popcorn manufacturer added Cape® Systems' (Plano, TX) Cape Pack for Windows(TM) Version 1.2 computer software to one of its PCs in September '94. Through colorful graphics on the computer's monitor, the software illustrates a variety of case packing and pallet stacking patterns that helped Weaver to optimize space both in the shipping case and on the pallet.
Weaver uses this information to avoid ordering cases sized larger than necessary, and to get more cases on each pallet. This lets Weaver optimize space on transit vehicles for surface shipments, which helps the company reduce freight costs.
"Before we purchased the software, we had used hand-drawn pallet stacking patterns and just loaded cases on the pallet until they fit properly," recalls John Little, Weaver's operations technical manager. "We also used pallet specifications provided by our corrugated suppliers.
"But in our cost-competitive environment, we wanted a program where we could analyze our cube efficiency," he continues. "We wanted answers to questions such as, if we decreased our primary package size, would it enable us to add an extra layer of cases on a pallet and save on shipping costs?"
Little had worked with a Cape program at a previous job. He compared different software programs before again selecting Cape. "It was the best program out there for us," he states. "And it didn't require bringing in experienced computer operators or additional computer hardware or packaging equipment."
The software includes five disks that Weaver installed and had running within 35 minutes. A day later, Weaver earned payback on its investment several times over. "We developed a program for export shipments, which represent about a quarter of our business. It allowed us to get at least 250 more shipping cases, each containing three packs of 3-ounce microwaveable popcorn, into an overseas shipping container," Little explains.
"We began by looking at the size of the three-pack's primary paperboard carton and we slightly changed it. We also reduced the height of our shipping case," he says. "Then we changed to loading cases five-high rather than four-high on a pallet. All together, this helped us reach our goal of adding 250 more shippers on each container.
"This yielded savings of $10ꯠ a year in materials and another $30ꯠ a year in freight charges. That's a $40ꯠ savings within 24 hours after we had the software program up and running."
Little anticipates the software will help Weaver save another $30ꯠ annually for domestic popcorn shipments. "We can't change cases for all our SKUs at once because it would be cost-prohibitive to have our corrugated suppliers change all those box dies. As we make changes to case graphics, however, we'll optimize our carton sizes. We expect that will save us another $30ꯠ. That's a total savings of about $70ꯠ, which is substantial for our business."
How it works
The software is used for more than 250 Weaver stockkeeping units, which range in size from a three-pack of 3-oz packages of microwaveable popcorn to bulk shipments of 2귔 lb of popcorn packed in a woven polypropylene tote. Little estimates that the company sells more than 300 million lb worldwide. It's packaged for the retail market, for on-premise concession sales and for packagers that add flavors and ultimately resell it at retail, where it occasionally competes against Weaver's own brands.
Eighty percent of Weaver's volume is packed at the company's Van Buren headquarters facility. The balance comes from a plant in Ulysses, KS, and a facility in Argentina, both of which sell corn in bulk quantities.
At the Van Buren plant, product is packed on 15 separate lines. All but one line dedicated to packing 50-lb totes take advantage of the Cape Systems software. Each case size requires a specific pallet pattern. Overall, there are approximately 45 different RSC sizes, supplied by nearby Indiana plants of both Willamette Industries (Portland, OR) and Bell Packaging (Dallas, TX).
Weaver downloads Cape illustrations into another software system from The Sarbrook Co. (Dallas, TX), called PC-Specs®. PC-Specs contains specifications for all packaging materials used by Weaver, including corrugated shippers, primary cartons, film wrap, tape, stretch wrap, etc.
"We have integrated this system with the Cape software," explains Little. "We initially create a case packing or pallet stacking illustration on the Cape system. We then download that illustration into PC-Specs so that the next time we want to use that particular case or pallet program, we call it up in PC-Specs and it includes the Cape illustration. This gives us a computerized specification system for all the packaging materials involved. For example, it will provide shipping case dimensions, compression strength, liner specifications, as well as details for components such as cartons and microwaveable bags. We bought the system about the same time we purchased the Cape software. It minimizes our organizational time and keeps these details in one place where they can be easily accessed."
Each case size has a specific pallet stacking pattern. Weaver supply manager Randy Herring was instrumental in tailoring the Cape software for this aspect of Weaver's operation. "Once we have a fixed case size," Herring explains, "we can determine a pallet pattern layout. We can determine specific factors such as if cases can overhang an inch or so beyond the sides of the pallet and allow us to add more cases on a pallet to improve our efficiencies. The software gives us a variety of pattern options that let us know if column-stacking or interlocking cases will optimize and effectively protect our shipments."
The software also permits Weaver to generate color printouts of case and pallet patterns for its sales staff. Sales personnel show these to potential customers to vividly illustrate case and pallet configurations. "Our sales people are amazed at how professional they look and how quickly they can get printouts of a variety of patterns," says Little. "It's quite an improvement from our previous hand drawings. We're 100-percent satisfied with the system."
According to Cape Systems, Weaver Popcorn will soon receive an upgrade from version 1.2 to Cape Pack 95(TM) for Windows Version 2.0. The newer software is designed with on-line editing and enhanced graphics.
Companies in this article
Videos from All Packaging Machinery Corp.