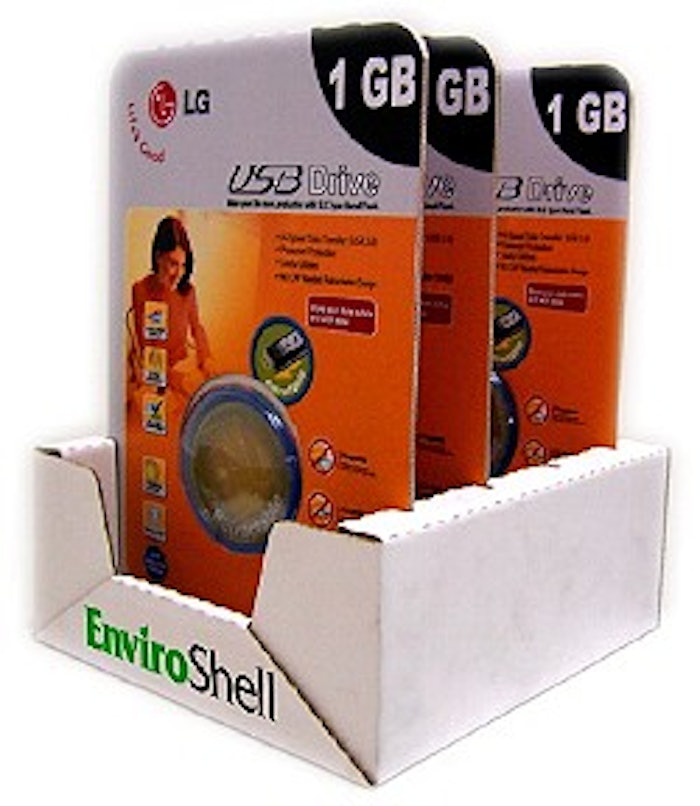 Winterborne, Inc., based in Chatsworth, CA, has been in the contract packaging business for 20+ years and has worked with warehouse club suppliers for 13 years. The company is a preferred packaging vendor for Sam's Club. Warehouse Club Focus spoke with Howard Mallen, executive vice president at Winterborne, about the company's partnership with Smurfit-Stone Container Corp., announced in September 2005, and about the company's patent-pending environmentally sustainable EnviroShell [TM] clamshell package.
Winterborne specializes in packaging products in clamshell or blister packages that are sealed along the edges using radio-frequency sealing machinery.
A packaging component that Winterborne outsources is corrugated paper. To address that ongoing need, in September, 2005, Winterborne announced a partnership with Smurfit-Stone, an integrated manufacturer of paperboard, paper-based packaging and corrugate, to promote the core competencies of both companies.
Greg St. Laurent, Smurfit-Stone's marketing manager, said, "We see Winterborne as a leading edge company in the development of consumer-oriented packaging. We look forward to working with them to further integrate their products and services into our sales and marketing efforts." This alliance will enable Winterborne and Smurfit-Stone to offer customers a complete in-house packaging solution, from innovation to implementation, that includes all packaging components.
Sustainable 'clubs'
One topic that is increasingly becoming important to warehouse club buyers is environmentally sustainable packaging. Mallen said that buyers from Sam's Club and Costco are undertaking a push to reduce or eliminate polyvinyl chloride (PVC). In addition, Sam's Club buyers use a checklist on environmentally sustainable packaging when reviewing club products.
According to the World Commission on Environment and Development, environmentally sustainable packaging "meets the needs of the present without compromising the ability of future generations to meet their own needs." Essentially, as Mallen states, sustainable packaging is the "creation of product packaging for the current marketplace that does not compromise the environment for future generations."
In a September 22, 2005 Business Week Online interview, Lee Scott, Wal-Mart's chairman and chief executive officer, commented on environmentally friendly packaging. Scott said, "We are finding tremendous cost savings while doing better things for the environment. Packaging is one of the simple ones, and shame on us for not having done it earlier. We just changed the packaging on 16 private label toys. It saved 230 containers coming from overseas ... and we didn't change any of the product inside. It saved more than $1 million in transportation costs."
EnviroShell clamshell package
A year ago, Winterborne decided to address the issue of environmentally sustainable packaging and introduced the patent-pending EnviroShell clamshell package. EnviroShell is a blister-corrugated hybrid package that is made from 65% recycled materials, including 50% post-consumer content. [Editor's note: The blister is made of RPET, Recycled PET] EnviroShell meets key club buyer needs, such as improved product and marketing visibility, theft deterrence, product support and stability, protection during distribution and strength for heavy products and multilayer stacking.
In terms of cost, the EnviroShell environmentally sustainable packaging can save up to 20%, especially when there is less plastic and more corrugated.
Packaging Insights offers these reports on the latest club store packaging courtesy of HHC Publishing, Inc., publishers of Warehouse Club Focus. This is from the November 16, 2005 issue.
Companies in this article