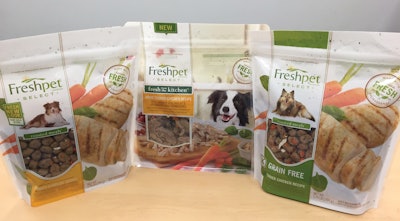 Freshpet Kitchens, Bethlehem, PA, is a trailblazer in the development and marketing of fresh, refrigerated pet foods. With more than 13,000 retail locations nation-wide, the company has developed and launched products in a range of packaging types, including chubs, plastic tubs, and bags. Its newest venture is complete roasted meals packaged in modified atmosphere-packed stand-up pouches. These complete meals consist of small chunks of formed meat that have been pasteurized, cooled, and then poured into pre-formed, multi-layer stand-up pouches along with other ingredients, including vegetables and fruits.
The flexible PET film SUPs with a clear window on the front to reveal the package contents are supplied by a company that Freshpet chooses to keep proprietary at this point in time.
Team effort
Michael Hieger, Senior Vice President of Operations for Freshpet, notes, "Our operations, maintenance, and marketing teams worked closely on the Roasted Meals project. Everyone needed to understand how many different pouches we would need, the various sizes, and the growth projections for the brands—everything and anything that could possibly have an impact on the packaging line. Our goal was to ensure the equipment would provide the flexibility needed as conditions changed and markets grew."
Based on these planning meetings, it was determined that there would be at least one or two pouch configuration changeovers per day. Because a roll-fed form/fill/seal system probably meant more changeover time, Freshpet decided to opt for a fill/seal/gas-flush system using pre-formed pouches.
Team members visited a number of plants that were using pre-made SUPs and discussed machinery functions and options. After careful evaluations, Freshpet selected the Model TT-8C2 vertical pre-formed pouch fill/seal system from Toyo Jidoki, sold and supported in the U.S. by Matrix Packaging Machinery, a Pro Mach Company. The first Toyo Jidoki was installed in 2010 at Freshpet's Quakertown, PA plant. After a learning curve, Freshpet personnel became true believers in the packaging system. Says Hieger, "Having our team members visit other plants to gather and evaluate data helped us to come as close as possible to getting a new packaging line right the first time."
Among the reasons why Freshpet chose this system: It was rated for wash-down environments, had the capacity to fill and seal up to 25 pouches per minute, and can accommodate a wide range of pouch widths and lengths. In addition, changeover times are less than 10 minutes, and Matrix Packaging service technicians are geographically located to be at the plant for technical assistance within 90 minutes.
New horizons
In 2013, with demand growing for its pouched fresh refrigerated pet foods, Freshpet opened a brand new production and packaging facility in Bethlehem, PA. Having experienced great success with the first pouch packaging line at the Quakertown plant, the company installed a new higher speed version (55 pouches/min) of the Toyo Jidoki machine, the Model TT-8DN, at the new Bethlehem facility.
For a time, Freshpet operated the two plants before closing down the Quakertown facility. Frespet intends to have a second pouch fill/seal line installed and running in Bethlehem by the end of the second quarter of 2016. All of Freshpet's pre-formed, recloseable pouches (more than 20 different stock-keeping units) will be filled, gas-flushed, and sealed using Toyo Jidoki equipment.
The modified atmosphere-packed SUP cat and dog food products are diverse in both flavor variety and pouch sizes (1-lb, 1.75-lb, 2-lb, 3-lb, 5.5-lb, and 6-lb). They contain no preservatives. Retail prices may range from $3.99 to $19.99 in grocery stores, and from $5.99 to $29.99 in specialty pet stores.
Freshpet also has innovated in the area of colorful, well-lighted, refrigerated, in-store, end-aisle displays. These company-owned Freshpet Fridges are designed to stand out in the store and showcase Freshpet's wide variety of creative product and package offerings.
Companies in this article
Videos from Matrix Packaging Machinery