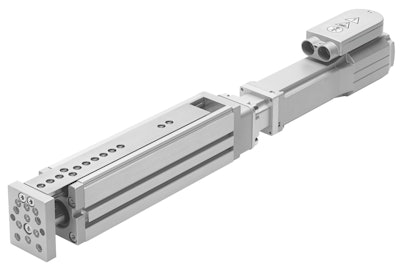 The energy-efficient EGSL electric slide provides an economical positioning function for strokes of up to 11.8 in. (300 mm). The enclosed ball screw prevents dirt or small work pieces from entering the guide area. Based on the high-precision guide of the DGSL, the pneumatic equivalent of the EGSL, these electric slides are available in four sizes as measured in slide width: 1.4, 1.8, 2.2, and 3 in. (35, 45, 55, and 75 mm).
The motor, which is matched to the mechanical components, does not project beyond the slide. It can be mounted axially or in parallel. This results in a rectangular slide that can be easily integrated into an application. The sensors on the slide itself are also easy to install and make position sensing simple. The intuitive Festo Configuration Tool provides help with commissioning.
To select the best possible solution and matching components, engineers can use Festo's online engineering software Positioning Drives to calculate the characteristic load values for the selected drives quickly and reliably – in a maximum of four steps. Engineers simply enter the application parameters and required cycle times, edit the motion cycles, and select the desired solution package. The program then outputs the detailed results such as motor characteristic curve, system data, product data, and parts list. Engineers can then use this information for ordering and machine documentation. The software ensures that motors, gears, and axes are neither over- nor under-dimensioned.
Companies in this article