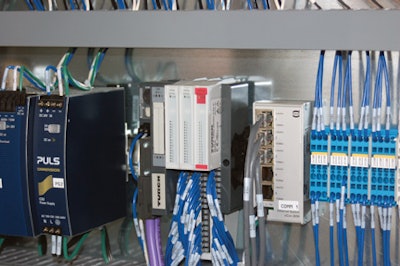 The California location of packaging machinery specialist Pro Pack Systems makes the company especially appealing for a multitude of local fruit and vegetable producers. The plants in these industries can be harsh environments, where rugged wash downs are routine. So Pro Pack has designed its equipment with IP67-rated components to provide reliable operation in these locations.
"The components we use in our equipment must have good seals to resist harsh air quality, due to the chemicals used for sanitation that can be found in a lot of our customers' sites," says Paul Zurlinden, manager of controls engineering at Pro Pack.
Among the company's recent machine innovations is the Pro Print/EBS-HS-2. It uses a Markem-Image ink-jet printer to print flat corrugated blanks before they are erected into cases. It then erects and bottom seals the cases it has formed.
The servo-driven case opening/squaring system on the Pro Print/EBS-HS-2 delivers throughput of up to 35 cases per minute. Printed and erected cases are discharged either automatically or on demand with the case oriented vertically, not horizontally, to facilitate manual or automated packing. The system is unique in its ability to conduct all these steps with one machine, instead of requiring separate pieces of equipment on the packaging line.
The development of the Pro Print/EBS-HS-2 didn't happen overnight. It took two major machine design stages and months of research, design and development. Advanced technology had to be implemented to turn the concept into reality.
"In the past, the equipment was much less sophisticated," says Zurlinden. "Now it includes more technology for higher flexibility, including a dynamic servo system and more I/O."
Machine control of the seven-axis system is handled by a PacDrive C400 from Schneider Electric. It communicates out to seven Schneider servo drive/motor units via Sercos. A second fieldbus, usually Profibus, connects out to the I/O network.
Integrated capabilities
The EBS-HS-2 utilizes sensors, cables, and I/O stations from Turck to deliver its integrated capabilities. "As you get into a more complex machine like this one, precise control of air pressure and vacuum become more critical than ever," says Zurlinden. "Turck has some slick little air pressure and vacuum sensors that fit nicely into our system."
The Turck I/O network includes one BL20 modular I/O bus terminal system and multiple AIM (Advanced I/O Module) stations. "The C400 controller isn't intended to have a lot of onboard I/O," says Zurlinden. "If you need more I/O, you buy fieldbus I/O, and that's where Turck came in. The BL20 is IP20 rated, perfect for inside our controls cabinet enclosure. The AIM stations are IP67 rated, which means they're capable of withstanding rugged washdown conditions. So they're mounted out on the machine. It permits shorter cable connections between a given I/O point back to an AIM station and then a fieldbus trunk line going around the machine and connecting to all those AIM stations." At the end of the day, the Turck components optimize the transfer of inputs into and outputs out of the C400 controller.
Zurlinden also notes that both the BL20 station and the AIM stations are available in network protocols most often required by Pro Pack customers—DeviceNet™ and Profibus™—so that the machines can be designed to suit the manufacturing environment in which they'll function. "The fact that Turck offers many products with many different network protocols makes it easy for us to use them on our equipment," adds Zurlinden.
Pro Pack produces approximately 20 pieces of equipment each year, each with subassemblies on the machines to give users control and diagnostics at the point where they're needed most. According to Zurlinden, a real advantage of integrating these stations on the machines is the reduction of in-house assembly and start-up time at the customer site.
"Networking our I/O reduces our assembly time with minimal conductor terminations," says Zurlinden. "We also provide service and start-up support to help our customers with installation, along with training employees about how to operate and troubleshoot our machines. A networked system offers fewer wires and simpler troubleshooting."
Thanks to Turck's flexibility in manufacturing, Pro Pack has also been able to meet custom needs. Turck was able to provide the company with an encoder with a custom cable connection for its Pro Print/EBS-HS-2 machine. A hollow-shaft encoder with a d-sub style connection was required for the integrated printing system within the machine, and Turck was able to respond to the request easily with minimal upcharge and minimal lead time.
Companies in this article