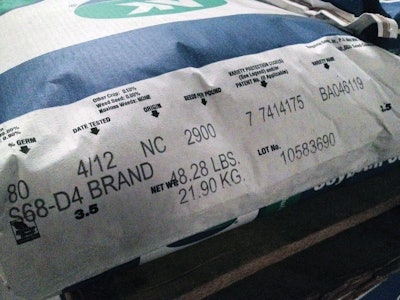 In the seed bag printing business, accuracy is key. A single mistake—the wrong label on the wrong bag, smudged ink, illegible text—could mean a full season of hard work lost. From research to distribution, the seed production process can take up to two years, making coding and marking the bag critical parts of the quality control process.

For companies like Cashwell and Jones, a small seed conditioning, bagging, and printing company in Mt. Olive, NC, bag coding can be a challenge. But that challenge recently became a lot easier when the company turned to the BagJet 1300 from RSI and the combined power of RSI and HP thermal ink-jet technology.

RSI Systems is well known for its innovative product coding technology and integration with reliable HP thermal ink-jet printheads. "We develop whole solutions," says David Don, president of RSI, "and we use HP technology in our solutions where HP offers the best print performance." The combination has helped RSI break into new areas of business—including printing for lumber, case coding, and the bag printing industry.

Today the rapidly growing seed trade industry makes up a large percentage of RSI's customer base. For years, the industry had struggled with the challenge of printing mandatory data on the unstable, porous surface of seed bags.
In response, RSI developed the BagJet 1300, a turnkey bag printing system that controls and stabilizes the bag lip for reliable printing. It also uses HP 4500 Pigment Bulk printheads and ink supplies to create crisp, high-resolution text, scannable barcodes, and logos.

Half the labor, twice the production
After conditioning seeds for distributors, Cashwell and Jones is responsible for meeting strict regulatory requirements. The company must print, among other data, the germination date, treatment, lot number, and patent information required by seed manufacturers on the bag lip of all seed bags. The print also helps enforce quality control—ensuring the right bags are sent to the right people and given the correct treatment.

Before installing its BagJet 1300 in January 2011, Cashwell and Jones used a labor-intensive method to mark its seed bags. "We were using something a little like a rubber stamp," says Jimmy Jones, plant manager. Employees used to have to create a stamp for each new piece of data and manually hold the bags upright for marking.

Without a more reliable mode of stabilization, the company always risked ink smears and problems with legibility, which could lead to the bags being rejected by the seed manufacturer. Now, Jones says, the stabilization offered by the BagJet 1300 makes legibility a non-issue. "I come in for the day and never have to worry about it," says Jones.

The BagJet has also helped Cashwell and Jones run faster. Before installing the system, at its most productive, the company could print six to eight bags per minute, using six operators running two manual baggers. Now, it averages 12 to 13 bags per minute using just three operators.

"It's a really big deal," Jones says, "for a little place sitting on the side of a North Carolina highway to be turning out 12 bags per minute and doubling production."

For companies that work in seasonal businesses, it's important to be able to ramp up quickly after long periods of inactivity between seasons. And that's another reason RSI works exclusively with HP thermal ink-jet technology.

"HP is, by design, extremely resilient," explains RSI's Don. "Other technology takes a lot of effort to prime—and even then, there's no guarantee they'll actually start up again." Unlike systems that require continuous operation, users can just pop in a new HP thermal ink-jet printhead, and the system is up and running in seconds. Plus, HP 4500 Pigment Bulk Ink Cartridges keep downtime to a minimum. These capabilities allow Cashwell and Jones to make small changes to the printed data almost instantly, without having to halt production to create a new stamp.

As the people at Cashwell and Jones look to the future of the $12 billion USD seed industry, they know they'll have to differentiate to stay ahead. The success they experienced with the RSI BagJet 1300 inspired the company to start imagining even more possibilities for the future, including the addition of scannable barcodes for richer data and color printing for clarity and marketing—both features made possible by RSI and HP thermal ink-jet technology.

And when the time comes for expansion and bringing in even more printing systems, Jimmy Jones says, "If I have anything to do with it, HP and RSI will have a part in that."
Companies in this article