Henrik Jensen, Managing Director of Christiansen Print, and Founding Board Member of Digital Pack spoke at Digital Print for Packaging in Berlin recently about the new network and its goals for the future.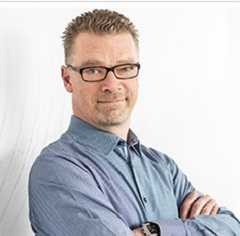 Henrik Jensen, Managing Director of Christiansen Print, and Founding Board Member of Digital Pack
Jensen said that Digital Pack is "dedicated to brand's success through digitally printed graphics packaging and displays; speed, efficiency and agility for successful marketing and supply chain outcomes; and, quality and performance through HP inkjet technology, water-based inks, and software."
The goals of the association include making digital print easier and better for brands; establishing digital best practices for assurance of supply (in areas of digital workflow, color management and press optimization); and, connecting brands with reliable digital print suppliers (while providing education, case studies and project collaboration).
Jensen said this ability to scale regionally and globally through the network will allow assurance of supply and consistency of quality across digital suppliers, including simplicity, speed and agility in ordering. "If I use digital in the US and I have the same project in Europe," said Jensen, "I absolutely want to insist on it being exactly the same."
Brands want to know what they can do with digital print, Jensen said, and how they can use the technology. "And the question is, can you as a manufacturer, as a printer, can you do that alone?" he asks. "When you're alone, you have to take all the risks."
Jensen said the digital [print] world is one that shares ideas and competence, and through this sharing the association hopes to make digital print "easy" for brands, and to establish best practices, including environmental best practices.
He shared the common beliefs of the member companies:
·     Sustainability through water-based inks and thermal inkjet technology, printing high quality color graphics at high speeds; supply chain and manufacturing processes.
·      Operating fairly and ethically, prioritizing the value and delight of the customer.
·      Adding value through expertise in prepress, color management and digital workflow.
·      Adopting and sharing best practices for producing consistent print quality.
For more information on Digital Pack and to see case studies, click here.
To learn more about Digital Print for Packaging Europe, click here.
"PMMI Media Group editors have purchased carbon credits through cooleffect.org to ensure any flights we take to cover events in 2020 are carbon neutral."
Companies in this article