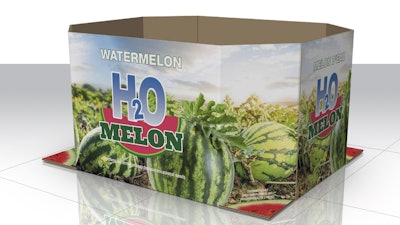 The octagonal bins, measuring 40 x 48 in. with a capacity of up to 700 lbs of produce, were designed for Savco by Georgia-Pacific's Hummingbird™ digital print solutions providerfor production on its 110-in.-wide web-fed HP PageWide digital corrugated press. Savco orders are printed with fast turnaround, with Hummingbird shipping the packaging directly to the farmers.
"The growing or buying seasons for some produce can be just a few weeks," says Sav Tsoukalas, president, Savco Worldwide, Inc. "The HP PageWide digital printing solution gives agility to provide up-to-date packaging quickly to farms for shipping to consumer outlets."
This season's first H20 Melons are now shipping to major wholesale retail stores in the U.S. and Canada.
According to Hummingbird, the HP PageWide T1100S Press helps shippers get products to market up to 80% faster than traditional printing and manufacturing methods, eliminating the cost of printing plates. In web-fed corrugated pre-printing on the HP PageWide 1100S Press, the printed roll is fed into a corrugator for attachment to the flute and bottom liner.
"Corrugated boxes are the fastest-growing packaging segment. High-volume digital inkjet printing provides brands with new marketing and supply chain management opportunities for any size job, including versioning and customization," said Robert Seay, Director – Digital Business Ventures, GP Corrugated.
According to Tsoukalas, digitally printed packaging boosts Savco's sustainability profile to help meet the environmental stewardship requirements of distributors and to win contracts. "Another advantage is the easy recyclability of HP PageWide digitally-printed corrugated packaging, which can be collected along with general corrugated materials from stores for recycling," he says.
PageWide packaging also meets retailers' needs for food-grade ink, Tsoukalas noted.
HP PageWide's water-based inks are odorless and free of UV-reactive chemistries, enabling a wide range of packaging applications, including primary and secondary packaging for sensitive uses such as food and personal care while requiring no additional barriers. These inks can comply with even the most stringent global food safety regulations, including Nestlé guidance and Swiss Ordinance.
Savco is also taking advantage of the high-quality graphics and vibrant color of HP digital printing to engage customers with its H2O Melon watermelon brand. The graphics on the bins are creatively designed to represent clean, clear water, visually attracting shoppers in the store. Last season, H2O used three designs and is expanding to up to eight versions in 2019, says Tsoukalas.
The bins also feature QR codes with geo-location links to connect watermelon bins to their farms. "I want to give the farmers credit and the opportunity to publicize their local business and location to consumers. This makes it a true partnership," says Tsoukalas.
Simon Goldsack, HP Worldwide Brand Innovation Manager for Corrugated Solutions,agrees. "Today, it's all about connecting the customer to the brand and becoming their preferred option and choice. Digital printing capabilities make it possible for brands to get closer to the consumer using versioning, promotional, or personalized packaging."
Companies in this article