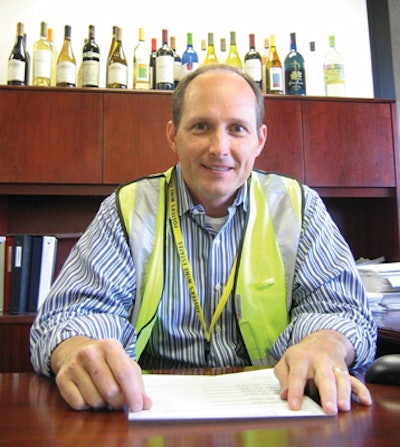 PW:
Tom, please summarize your background.
Cooper:
I spent almost 20 years in various roles in aviation.
All the while, I was developing a passion for wine.
PW:
What is your single biggest challenge these days
running a four-line bottling facility?
Cooper:
Trying to master four very different lines with
different missions and equipment. More standardized equipment would help, but we redeployed existing assets when we moved into this new facility.
PW:
You led the recent project that brought a plastic (PET) bottle into your facility's packaging mix for the first time. How did that go?
Cooper:
This is my first wine bottling project. It all came together nicely and the line has done very well. Actually, it is probably the most consistent performing line that we have of our four lines here.
PW:
Was there anything in particular that you learned from that project?
Cooper:
It reaffirmed the basics that if you take the time, do your homework, get the specifications right and then deal with quality suppliers, your chances of being successful are pretty good.
PW:
How would you compare wine bottling using PET versus glass?
Cooper:
Each has its challenges: descrambling, vacuum conveying, and screw-cap application for PET, and noise and breakage for glass. However, we find the most difficult problems are variability in quality and reliability of supply. These problems apply to both glass and PET.
PW:
How do you feel about packaging developments like plastic bottles and screw caps that break wine "traditions," according to purists?
Cooper:
On an objective level, most people know that screw caps are a more consistent closure than cork. When is the last time someone opened a bottle with a screw cap and declared the bottle "corked"? Traditions are quickly becoming less important than quality, consistency, and value.
PW:
Where are these wine packaging developments headed?
Cooper:
In addition to new labels with creative graphics, we'll see new, more creative bottle shapes and colors and new closures.
PW:
What is your favorite wine and package format?
Cooper:
Chateau St. Jean Sonoma County Pinot Noir. The package projects class with its large, traditional label. The bottle is slightly larger in diameter than a typical 750-mL burgundy, with the signature "CSJ" relief front and center. Best of all, the wine is a terrific value. I highly recommend it.
—Rick Lingle

(For more on the facility, see www.packworld.com/view-23870)