Since the plunge in petroleum prices began in early 2015, the oil and gas industry has been turning increasingly to automation to help optimize production to maintain profits. Long gone are the wildcatting days that paid little heed to efficiencies—where producers could strike it rich if they just kept drilling.
Though the use of drones in any manufacturing operation might still seem fanciful, it has already proven its benefit to energy companies. California's largest oil and natural gas producer, California Resources Corp. (CRC), started incorporating drones along with DroneDeploy software in 2018 and has seen clear benefits in its operations.
In its two years of drone use, CRC has been able to improve safety, promote communication, and improve production efficiency and reliability. Reducing the cost of inspections by eliminating the need for expensive manned aircraft, the company estimates the financial impact of using the technology in the hundreds of thousands of dollars while also reducing the risk to personnel.
Covering ground
CRC holds the largest privately held mineral acreage in California, consisting of 2.2 million net acres spanning the state's four major oil and gas basins. Implementing drones into its operations made it possible for the energy producer to construct a more accurate digital property record.
Currently operating with 26 licensed drone pilots—with plans to expand that to 100—CRC found a way to cover its vast expanse of land. But it also needed a way to pull all that data from drones in the field into a centralized location. This would help address CRC's issue of having only about 5% of the company's assets in a centralized database.
"We were looking for an elegant solution for automated aerial imagery, mapping, and program management," says Alvin Rentsch, transformation architect for CRC.
DroneDeploy software gave CRC a process to allow the right people to have access to all aerial visuals while analyzing the images remotely. It could send out a team of pilots to fly several different areas of land and upload those captured images, videos, and panoramas to the cloud, enabling its analysts to work from accurate maps and models without the need for radios or similarly faulty communication techniques.
CRC could also automatically collect detailed flight logs for all drone flights, filter through specific projects and timescales, and create custom pre-flight checklists with responses automatically recorded against the flight record. This enhanced visibility into their operations across the entire team by maximizing data capture—making sure pilots were using the most precise flight plans without doubling up on work. These capabilities allowed CRC to scale its program without delays, mistakes, or extra costs, enabling them to capture all of their assets, across the millions of acres of land, in a much shorter amount of the time.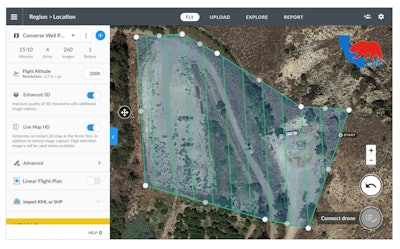 Detailed inspections
The energy industry has certainly caught on over the past couple years to how useful drones can be for quick, safe, effective inspections of everything from flare stacks to pipelines—not to mention renewable assets on solar and wind farms. In CRC's case, inspections are used to detect dangerous methane or hydrogen sulfide leaks, ground subsidence of well pads, or flare stack anomalies. Using drones rather than manual inspections, CRC has been able to move from a reactive maintenance scenario to proactive.
For example, CRC used DroneDeploy to monitor anomalies that could otherwise be missed by human inspectors, who cannot always detect the minute cracks on the ground surface. A tiltmeter—a sensitive inclinometer designed to measure very small changes—was one alternative used by CRC, but it was an expensive one, sometimes costing as much as $7,000 each. It also had to be installed deep underground, adding several hours to the production schedule.
Drones, on the other hand, can run regular flights to detect any anomalies. By using drones and thermal imagery, not only could CRC detect such instances accurately, maintenance personnel could act on that information faster, saving both time and money.
Using drones also reduced the overall effort normally needed to perform such inspections. With pipelines often spanning thousands of acres, it can take days or weeks for a team to complete its examinations. One of the largest areas that CRC is required to monitor is more than 22,000 square acres. Within that area, more than 30,000 wellpoints need to be assessed. Manually and visually inspecting each and every wellpoint is impractical. And if workers could not drive or walk to some pipelines, CRC had to rent helicopters.
Flying further
By logging 100% of its drone flights through DroneDeploy, CRC realized more than $205,000 in savings over its previous process in the first half of 2019, with an estimated $500,000 in savings by the end of the year, according to Maurilio Espinoza, CRC's process excellence lead. Those savings are all attributed to inspections, surveillance, mapping, and reliability, he adds. The company has also reduced the time for all inspection workflows by 40%.
Looking to the future, CRC plans to expand its drone reach—putting a drone in every one of its field vehicles. The energy producer would also like to have up to six pilots per operational area. The plan is to continue to grow the program to address maintenance issues more efficiently than annual checks, and to cut unnecessary staffing hours.
---
See other ways that the energy industry has been pushing the use of drones to improve operations: