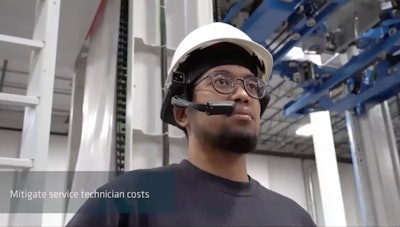 Beumer
Recognizing the value of embracing digitalization to improve customer service, Beumer has developed its first smart system for customer service. Using augmented reality (AR) with smart glasses, the equipment maker aims to improve service quality and engagement while significantly reducing cost and downtime for the user.
During a demonstration at PACK EXPO Connects, Beumer highlighted the concept of its smart solution, the added value it delivers to customers, and how it can be implemented on-site.
To set the scene, Marvin Krampe, sales engineer for Beumer, described a customer situation that is undoubtedly all too familiar. The customer calls the hotline to describe an error, but it is difficult to make himself understood without ultimately sending pictures or videos by email, a process that delays results.
"When we are receiving customer calls on our hotline, we are often facing communication issues," Krampe said. "These communication issues are mostly not related to the technical knowledge of the hotline engineer, no. They're mostly related to language barriers, language issues. We're using different terminologies around the globe."
Customers and technicians are sending pictures back and forth through email, WhatsApp or Skype just to try to make the situation clear. "We have a very uncontrolled information flow. We're using different tools. A lot of information gets lost. A lot of information gets wrongly interpreted," Krampe described. "Therefore, we need a significantly longer time to troubleshoot the system."
In its move to overcome these communication issues, the OEM now offers Beumer Smart Glasses as an add-on service to its existing customer support service hotline and remote connection capabilities. With smart glasses, Beumer technicians are able to identify problems faster for clients, mitigating service costs as well. The glasses provide hands-free troubleshooting for the operator through voice activation. Working over the existing Wi-Fi infrastructure, the glasses provide live two-way video and audio communication, where technical support is able to share key equipment drawings and documents with clients.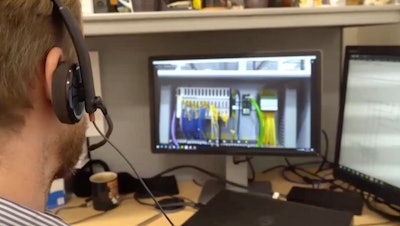 "The smart glasses are actually a very powerful tool which significantly improves the quality of our communication while we are supporting our customers on-site," Krampe said. "The smart glasses allow us now to transfer a live video stream from the service technician on-site to the back office of Beumer Corp. We are also able to share additional informations on the smart glasses display of the operator, such as guidelines, videos, documentations. We can share our desktop; we can draw some lines; we can pinpoint to certain components of the machine; or even guide the operator through a sequence of operations while we are circling, for example, certain areas of the machine all on the HMI.
Beumer has found its new service approach to be a highly efficient tool for troubleshooting, according to Krampe, who pointed to improved communication and real-time data transfer as key benefits. Not only is downtime reduced significantly in emergency cases, but there is no longer a need to have technical personnel travel to the customer site whenever there's a problem. This has been particularly important during the COVID-19 pandemic, Krampe added.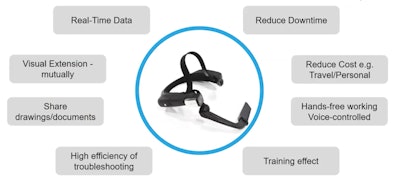 An added benefit to all of this has been the training effect the smart glasses end up having on the operator. "Back in the day, we just sent some Beumer engineer on-site. He was troubleshooting the machine and the equipment, got the machine back up and running. And if you asked the operator at the end of the shift what was the root cause and how they fixed it, he mostly didn't know what happened because the Beumer engineer did it," Krampe explained. "Now we're only transferring the information. We give the glasses to the operator, and he's actually executing the troubleshooting, which has a very significant training aspect to the entire operation. So it's technically a learning by doing."
Not only has Beumer implemented the smart glasses for troubleshooting scenarios, but the equipment supplier was even able to use the technology this year during the pandemic to remotely install and commission a palletizer and stretch hood system with one of its clients in Europe. "We used the Beumer smart glasses to connect to our client on-site and supported him while they were installing physically the machine and commissioned the machine to get them up to speed," Krampe said.

View this demo in its entirety (available through March 31, 2021) as well as others, and add Beumer to your MyConnects Planner, all part of PACK EXPO Connects.
Watch the Wednesday Jumpstart session, where Natalie Craig, OEM Managing Editor, and I discuss these and other types of remote monitoring and access technologies, and how they fit into industry trends.
Companies in this article