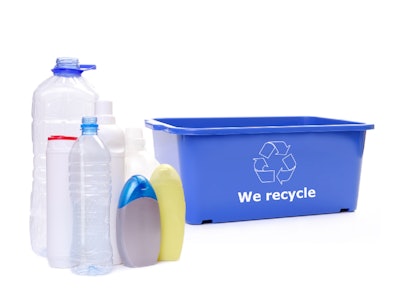 As plastic packaging continues to evolve, so too will the testing protocols used to determine recyclability, according to the Association of Plastic Recyclers.
"It's going to continue to be a focus in 2017 where we're totally updating and adding to our testing protocols," says Kara Pochiro, Communications Director for APR. The national trade association will also work to harmonize domestic protocols with those used in Europe.
APR regularly works to update its Design Guide for Plastics Recyclability, essentially a how-to manual to help brand owners and packaging designers create packaging that can be recycled. When those companies create packaging prototypes, they can choose to send them through a testing process to ensure they won't inhibit recycling. APR creates those testing procedures. If the testing is done correctly and the packaging passes, APR publicly confirms the packages are recyclable.
"The guide is really growing and growing in its influence in the marketplace and becoming sort of the go-to guide that's out there," says Steve Alexander, APR's Executive Director. "That's the intent. We're the recyclers. At the end of the day, we know whether something is recyclable or not."
In October 2016, APR presented to Walmart's suppliers about the Design Guide for Plastics Recyclability at a supplier summit. An updated version of the guide was released in June 2016.
Changing packaging
New labels, inks, adhesives, additives, fillers, layers, and more can inhibit recycling of plastic packaging. Often, brand owners will make those packaging alterations without understanding the impacts on downstream recovery. But packages that aren't recoverable or contaminate the stream can hurt brand owners' ability to meet their own sustainability goals, notes APR.
"The labels are a very large component of where a lot of the testing needs to be done," says Alexander.
In 2017, APR plans to update testing procedures for PET, polypropylene, and high-density polyethylene items and create new protocols for flexible films. Additionally, the group will draft methods for tracking plastics flowing through materials recovery facilities (MRFs).
Pochiro says all new protocols, which undergo a thorough review and testing process, are expected to be completed by the end of the year. The film testing procedures are already being drafted and are expected to be finished by mid-year, she adds.