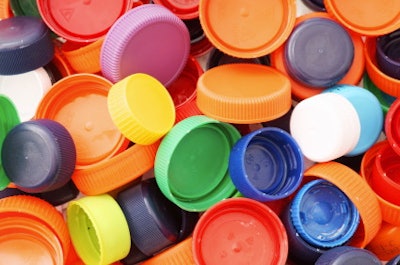 The Closure and Container Manufacturers Association (CCMA) and the Association of Postconsumer Plastic Recyclers (APR) have partnered to increase the recycling rates of plastic closures. The new program, titled "Caps On" encourages communities to ask its residents to include caps on plastic bottles at time of recycling. In addition to developing educational resources, the groups are working with material recovery facilities and recycling haulers to ask for their partnership and support.
The groups stress the importance of collecting valuable, recyclable plastics. "We are committed to increasing the available supply and the actual amount of plastics being recycled while at the same time reducing litter and waste," explains CCMA board of directors chairman Jack Hoscheit.
Adds APR's CEO/director, Steve Alexander, "We want to assure recycling coordinators, MRF operators, and other collectors of recyclables that plastics recyclers will process these bottles and recover the caps for recycling purposes."
There are domestic markets for recyclable plastics, especially those types of plastics found in bottles, containers, and their closures, the associations advise. APR member companies report growing demand for recycled plastic resins such as the polypropylene and polyethylene commonly found in caps and lids. "The marketplace is eager to consume caps as an expanding source of material," says Alexander.
While this change to keep closures on bottles is an about-face from industry-based recycling requirements of years before, it is an indicator of long-lasting market demand and technological advances. "This call for caps on is here to stay. MRFs can trust in the ability to market bales of containers with caps on," says Alexander.
CCMA and APR expect that this shift will take time as communities work to adopt their communication methods and at times, processing equipment. Says Hoscheit, "This is the beginning of a continued effort to increase the recovery of more plastic containers and closures. It will not be a quick shift, but boosting plastic recycling rates is an important ongoing commitment."
According to the associations, studies show that the most effective way by far to recover cap material is by including it on the container itself as opposed to throwing it loosely into recycling containers. With approximately 1.5 billion pounds of plastic closures produced every year, they say there's plenty material to be recovered, reprocessed, and recycled.