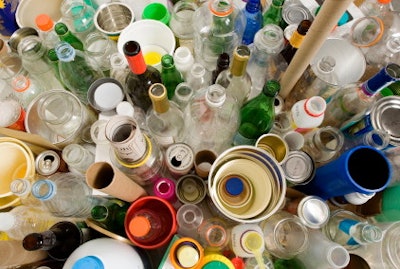 Recognizing the limitations of the U.S. waste management system, where only about one-third of all municipal solid waste (MSW) is recovered by recycling or composting, GreenBlue® has released a report that assesses a variety of material recovery systems around the world in order to inform U.S. policies and approaches.
"Closing the Loop: Road Map for Effective Material Value Recovery" provides a detailed systems analysis of international packaging recovery systems, including successful collection, sorting, and reprocessing technologies and infrastructures, as well as the waste management policies that support or limit recycling.
Focusing on material recovery in several EU nations, as well as Australia and ONT, Canada, the report presents a series of snapshots of advanced packaging material recovery systems and best practices that could improve recovery in the U.S. While much of the road map is focused on urban areas, it also includes a section on recovering materials in rural settings.
"Given today's fragmented recycling landscape, it's not enough to focus on single material types or recovery methods, incremental technology advances, or local policies," says GreenBlue project manager Liz Shoch, who led the GreenBlue research and authored the report. "We need to radically increase the quantity of materials recovered and the demand for recycled materials. This report lays out a comprehensive framework for moving toward a true closed-loop system that effectively captures valuable materials for the next generation of products."
The report is the culmination of GreenBlue's three-year "Closing the Loop" research project—funded through a grant awarded by California's Market Development Research Grant Program with additional support from GreenBlue's Sustainable Packaging Coalition®—which promotes more effective material recovery systems by connecting packaging designers with available recovery options.
Emerging best practics
Summarizing successes within various country, state, and municipal systems internationally, the report identifies a number of emerging best practices that could be adopted within the U.S., such as:
• A harmonized systems approach for all packaging materials, formats, and end-of-life options
• Four- or five-bin collection systems for clean, high-quality materials
• Investment in state-of-the-art sorting technology
• Clear and nationally coordinated waste policies, including extended producer responsibility (EPR) legislation
• Ongoing public education campaigns encouraging participation in recycling and composting
• "Hub and spoke" regional recycling in rural areas