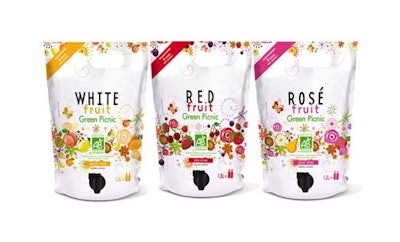 Gilles Louvet Vineyards, located in the south of France, has announced the uncorking of its Green PicNic organic wines in a spouted, flexible stand-up pouch, the BarrelPaQ® from Redi-2-DrinQ™ Group.

Says Laura Bret, Gilles Louvet national sales manager, "As the leader in organic wine production in France and Europe since 1993, it was logical for Gilles to take an interest in a more ecologically friendly solution like the pouch."

Green PicNic wines' BarrelPaQ flexible film pouch is said to offer a carbon footprint of just 20% of traditional glass containers. The line is available in three flavors—White Fruit, Red Fruit, and Rosé Fruit—with each 1.5-L pouch holding the equivalent of two bottles of wine. The package offers a shelf life of eight weeks in the refrigerator after opening.

The easy-to-open pouch features an ergonomically friendly, unbreakable hand hole, is lightweight, and allows for quick product chilling in the fridge. Pouring is said to be effortless, with an automatic tamper-free closure.
Companies in this article