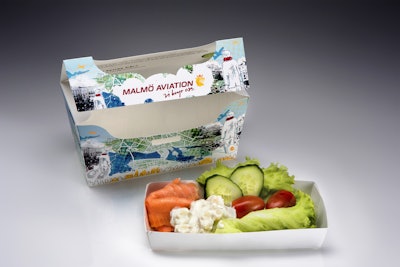 The new boxes are made of Invercote and Invercote Bio from Iggesund Paperboard. The environmental impact is reduced because some members of the Invercote family of paperboard are certified compostable. The new breakfast boxes are the result of a long development process focusing on both functionality and user friendliness. Behind this development were the catering company Picknick, the converting company Omikron, and Malmö Aviation.
The materials used in the boxes are the virgin fibre-based paperboards Invercote and Invercote Bio from Iggesund Paperboard. The outer shell of the box is made of ordinary Invercote. Inside is a serving tray made of Invercote Bio to hold the fresh food. This tray is in turn flow packed with a modified atmosphere to increase the food's shelf life and help prevent fogging. The ingenious feature of Invercote Bio is that it is coated with bioplastic. This means that the tray can go into the same waste stream as the food scraps – they can all be sent directly to an anaerobic digestion plant to produce biogas without the need for prior sorting.
"The combination of paperboard and bioplastic which are certified compostable to European standards means that the new box functions well in today's recycling systems and will continue to do so in future systems," comments Jonas Adler, commercial manager of the Invercote Bio products from Iggesund.
"Because the new breakfast boxes are smaller than our current ones, we can load far more onto each serving trolley," explains Malin Olin, inflight and lounge manager for Malmö Aviation. "That saves weight and space on board and helps the environment. The boxes also have two parts, making them easier to use."
Omikron in Jönköping has been working with catering materials since the beginning of the 1980s. It was a natural choice for the company to work with Invercote and Invercote Bio.
"This has been an exciting development project, not least because Malmö Aviation has consciously chosen to invest in both quality and the environment," comments Tony Norén, Omikron CEO. "Being able to reduce the space required by half and also to greatly extend the food's shelf life are interesting effects, while both the environmental and climate impact are also reduced."