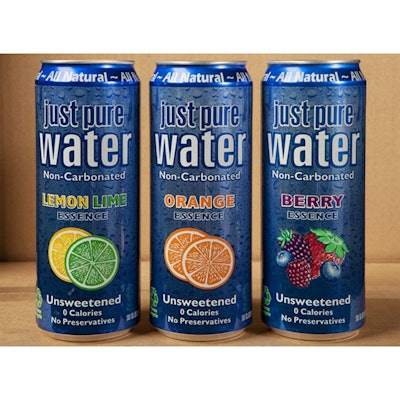 Just Pure Water contains no preservatives. The uniqueness of Just Pure Water is not only its natural, crisp taste but also its packaging of noncarbonated water in cans from Ball Corp. The can is the most recycled beverage container in North America, and Ball's cans contain an average of 68 percent post-consumer content and are 100 percent recyclable. The uniqueness of Ball's 24-ounce cans enhances Just Pure Water's shelf impact and offers consumers a quick-chilling, lightweight package.
"Packaging our Just Pure Water in aluminum cans was the natural solution for our company," said Scott LeBon, president and CEO of New Age Beverage. "Selecting the purest of natural ingredients for Just Pure Water and then offering it in recyclable aluminum cans combine the best that Mother Nature can offer in a package that is environmentally friendly and convenient. We are proud to have Sprouts as our first natural market chain to be selling Just Pure Water in Colorado and Arizona."
Each Just Pure Water flavor features a sustainability fact about cans:
Berry flavor—Why water in a can? Total average recycled content in aluminum cans made in the U.S. is 68 percent – the highest of any beverage container.
Lemon Lime flavor—Why water in a can? The energy saved by recycling just one aluminum can will power a TV for 3 hours.
Orange flavor—Why water in a can? It takes as few as 60 days to turn empty cans in the recycling bin into new cans on retailers' shelves.
Companies in this article