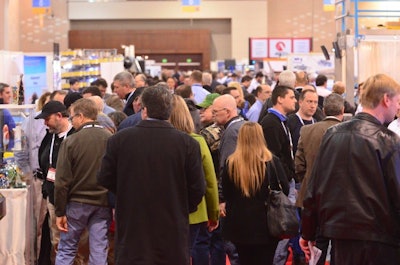 Initial figures from PACK EXPO East, which debuted Feb. 16-18 in Philadelphia, show the event surpassed all estimations, reporting more than 6,500 attendees, 386 exhibiting companies and 92,413 net square feet of exhibit space, according to show owner and producer PMMI, The Association for Packaging and Processing Technologies.
Its location in Philadelphia placed PACK EXPO East within 200 miles of one-third of U.S. consumer packaged goods companies (CPGs), including the life science and pharmaceutical industries, which have a stronghold in the region. Attendance — which drew primarily from Pennsylvania (35.5 percent), New Jersey (24.6 percent) and New York (10.3 percent) — surpassed initial projections by 60 percent.
"All you have to do is look at the numbers to see just how well PACK EXPO East met the need for processing and packaging in the Northeast. The show was the top-tier event PACK EXPO exhibitors and attendees expect," says Jim Pittas, senior vice president, PMMI.
A different kind of show
For PMMI President and CEO Charles D. Yuska, the success of PACK EXPO East 2015, from its location to the attendee and exhibitor experience, validated PMMI's 2013 conclusion that the market warranted a regional show.
"PMMI is always looking for new ways to achieve our mission to convene the processing and packaging supply chain, and Northeastern manufacturers needed an easier way to connect with leading processing and packaging suppliers," he says. "Based on initial feedback, I'd say buyers and sellers found PACK EXPO East fostered connections, discussions, and, ultimately, solutions for end users' operational challenges."
The strength of PACK EXPO East stemmed from this aspect, says exhibitor Jeff Bigger, president and CEO, Massman Automation, and vice chairman of the PMMI Board of Directors.
"Other regional shows we attend typically include co-located shows. This might give the impression of size, but in reality, the audience directly relevant to our business is much smaller. PACK EXPO East is a processing and packaging equipment show. The entire audience of customers is focused on our technologies, and it showed in the quantity and quality of leads," he says.
Attendee Ronald Yakubison, director — GTO Packaging Technical Operations, Merck, says that because PACK EXPO East was close to home, his company was able to send larger teams than it does to PACK EXPO Las Vegas or PACK EXPO International.
"A local trade show allows us to give the whole staff the opportunity to attend," Yakubison says. "In addition, the team reported seeing some things of interest that they may have missed [at a national event], since they typically fill up their time with known suppliers."
PACK EXPO as classroom
PACK EXPO East also featured Innovation Stage, the on-floor education format that's become a PACK EXPO standard. With topics as diverse as OEE, sanitary design for low-moisture foods and automation trends, attendees learned more about industry-changing technologies and trends.
Not far from the Innovation Stage, Vanderbilt University, the National Fluid Power Association (NFPA) and The Center for Compact and Efficient Fluid Power (CCEFP) sponsored The Future of Pneumatics. This exhibit showcased advancements in pneumatic technology and demonstrations of the school's pneumatic exhaust gas recovery system, which can reduce air consumption of pneumatic actuators by as much as 25 percent. In another aisle, Rutgers University's Packaging Engineering program presented student designs for automated loading and unloading systems, custom-order snack mix production and innovative packaging prototypes.
Enthusiasm and anticipation for upcoming shows
With the successful launch of PACK EXPO East, the PACK EXPO portfolio of trade shows now covers the continental United States: PACK EXPO Las Vegas will see its first Pharma EXPO co-location (in partnership with the International Society for Pharmaceutical Engineering) Sep. 28–30, 2015; PACK EXPO International and Pharma EXPO will return to Chicago Nov. 6–9, 2016; and PACK EXPO East will be back in Philadelphia in February 2017.
"The quality and variety of the attendees, as well as the other exhibitors, gave us an unparalleled opportunity to reach the widest range of prospective customers, business partners and other industry professionals," says Laura A. Studwell, industry marketing manager for exhibitor OMRON. "The quantity and quality of leads exceeded our expectations. Our booth was busy the entire time, even on the last day! We definitely left with solid leads we would not have had otherwise. We're looking forward to coming back."
PACK EXPO Las Vegas and Pharma EXPO 2015 will host more than 1,800 exhibitors next fall. To learn more and register, visit packexpolasvegas.com. Registration is $30 per person through Sept. 14, when it increases to $100.