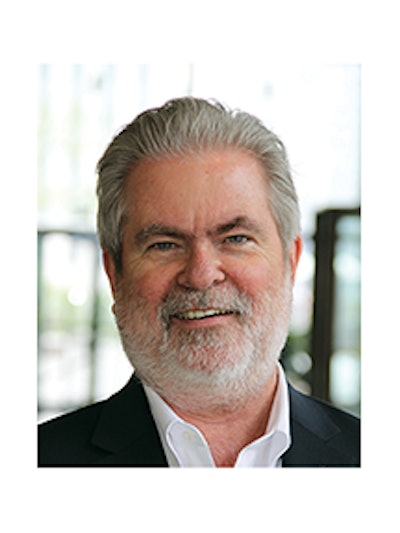 I often think of trade shows as time frame clarifiers. You walk into the exhibition hall on Day One thinking that things like drone delivery of packaged goods or the use of virtual reality technology to design labels and packaging are out there somewhere in the future. Three days later you walk out realizing that such things are now—not soon, not one day, not TBD, not maybe, but right now and firmly planted in the present.
PACK EXPO Las Vegas was one of those time frame clarifiers. At least for me it was. I was finally able to slap on a pair of Gear VR goggles powered by Oculus (whatever that means) and go on a virtual shopping spree thanks to the RafStore Virtual Reality tool. This interactive consumer shopping experience, which is all about education, engagement, and entertainment, was the result of a partnership formed between Clemson University and UPM Raflatac. Within the RafStore, visitors were able to "shop" virtual store shelves stocked with a variety of beverages and home and personal care items. More important to packaging professionals, you were able to see for yourself how important a role the label plays when choosing a product, and you were able to sharpen your ability to understand how different label materials capture the consumer's attention.
UPM Raflatac's aim in featuring the RafStore at PACK EXPO Las Vegas was to educate brand owners, customers, and potential customers, says Mark Pollard, Senior Vice President of Global Films SBU & Americas Region. "But we are also educating the future of our industry through our partnership with Clemson University," he points out. "The students who worked on our Virtual Reality RafStore experience are gaining valuable tools and experience for their packaging-related careers."
Bobby Congdon, Assistant Director at Clemson's Sonoco Institute of Packaging Design & Graphics, appreciates the funding that UPM Raflatac provided as part of the Clemson-UPM Raflatac partnership. He also sees value in involving the students in this kind of exercise, which stretches their horizons beyond the confines of what they might experience in the halls of academia. "It's nice being on the forefront in exploring what the intersection of this new technology and packaging design might be, to visualize it this way," says Congdon.
As for drone delivery of packaged goods, an interactive display called "Packaging for the Last Mile" was another highlight of PACK EXPO Las Vegas. PMMI collaborated with electric truck and drone maker Workhorse, whose clients include UPS, to bring the simulation to life. Mock housing populated the virtual landscape of the 15,000 sq ft exhibit in the North Hall, complete with mailboxes and doorsteps to accept delivered packages. Workhorse delivery drones took off from the top of a stationary Workhorse electric van and made deliveries to the mock houses. To complete the simulation, monitors outside of the drone area broadcast the information available from the delivery van via the Metron application. The screens also offered the drone perspective via live video from a camera mounted on the drones.
"When it comes to automated packaging delivery, whether it be a drone or driverless vehicles, many in the packaging industry, as well as consumers, are not exactly sure what this technology looks like or how it will apply to their everyday operations," says PMMI Chief Operating Officer Jim Pittas. "Our interactive display offered a real visualization of the final process that brings the package the last mile to a consumer's home."
These and many more marvels of packaging-related ingenuity were on full display September 25-27 at the Las Vegas Convention Center. If you missed them, be sure to mark your 2018 calendar now for October 14-17. That's when PACK EXPO International 2018 rolls around. No doubt it will bring us another big dose of the future.