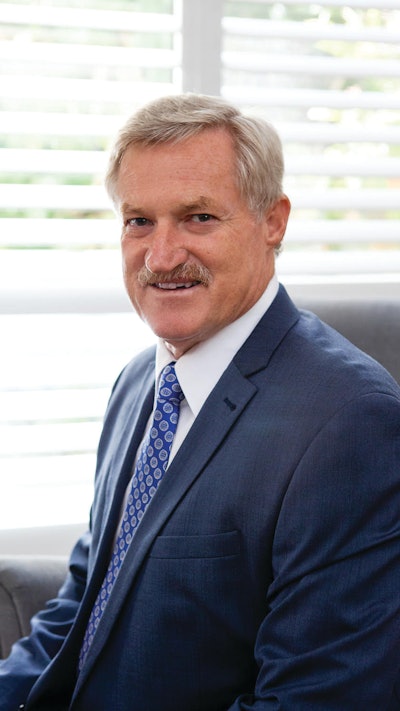 Most little boys who grow up on a sheep farm in South Africa don't dream as big as being able to travel the world, meet regularly with the United Nations, teach master's level courses at universities on at least five continents, and serve as president of the World Packaging Organization.
And neither did Pierre Pienaar. His plan was simple. He was going to study pharmacy and eventually take over the town pharmacy run by his Godfather.
"I've been back to that small town, and I see people when I'm there, and they say, 'How did you get where you are today when you came from this little town?" Pienaar says, "This town doesn't produce people like you, traveling the world and talking about what you do."
Like many who end up in this industry, particularly those earning the Packaging and Processing Hall of Fame, he was bit by the packaging bug.
"That was 37 years ago, and I've never looked back," he says. "I've enjoyed every minute of packaging. I eat, sleep, and drink packaging."
Pienaar's packaging odyssey began in the early 1980s when he graduated from university and began working in the laboratory for a pharmaceutical company that is now part of Aspen Pharma. One day the managing director approached the four most recent hires, three production pharmacists and Pienaar, and explained, "the company is spending an enormous amount of money on packaging, and we don't know what we are doing with our packaging."
He told the four to decide who would be the company's packaging expert.
"Well, fortunately for me, the other three were not even interested," he says with a laugh, "The next thing I knew, I was researching master's degree programs and found Brunel University in London."
From that serendipitous start, Pienaar grew to become one of the most prolific packaging educators in the world. While working at Aspen Pharma, he started his own chapter of the South African Packaging Institute before eventually becoming president, constantly scratching an ever-growing education itch.
"I was crossing paths with people that were not suitably qualified to discuss packaging from a scientific point of view, especially in pharmaceuticals, where one has to be careful," he says.
He saw it during his travels in Central Africa, where companies used the wrong materials on food products, and the food would deteriorate much quicker than it should have.
"It was something as simple as changing the material," he says. "There was no rocket science to it, but the people didn't know that, and these were [packaging development managers] in decision-making roles."
In a world where 35% of food is wasted, he says this knowledge can save lives, noting that "25% of that 35% could be solved by simply using the right packaging."
This is where his work with the WPO and United Nations Industrial Development Organization (UNIDO) fulfilled his passion for educating the world about packaging. Even in Australia, he still encounters people working in senior packaging roles who don't have any scientific background.
Recognizing this, Pienaar decided he needed to capture the future generations of packaging at a younger age and began lecturing on the technology and science of packaging at various universities and institutions worldwide. He relishes his interactions with students and their optimistic takes on driving recycling and sustainability through packaging. The students have also made him aware that despite his roles in the WPO and as an educator, sometimes education needs to be tied to actual boots-on-the-ground action.
In Indonesia, for example, there was no recycling. Together with the WPO and UNIDO, Pienaar was able to corral 18 major multinationals like Nestlé and Coca-Cola to come together and develop ways they, as corporate citizens, could bring recycling to the fourth most populous country in the world.
"About 50% of the waste coming into the sea comes from Southeast Asia—10 million metric tons of plastic per year," he says. "People don't stop long enough to realize we have a massive problem on our hands."
With significant players backing this program, Indonesia is developing recycling and collection and moving the waste back into a form where it can be used again.
"Now, something like that, once it's up and really running, then we'll break it to the world and say, 'If we can get it right in that developing country, we can then move that same working mechanism into other countries and do the same thing," he says.
In addition to running a packaging consultancy in Australia, Pienaar lectures master's students in Food Innovation and Packaging at the University of Melbourne (Australia), Bond University (Australia), and over a dozen additional universities worldwide.
But he doesn't stop there. For 16 years, he has visited the classrooms in his home state of Queensland, Australia, and explained packaging, the science of packaging, and the impact of not recycling it to children as young as first grade. He anticipates his two-year-old granddaughter being his greatest student.
"I want to make a difference that when I retire, I can say, "' Yep, it's now working,'" he says.
Read profiles of the other three inductees into the Packaging and Processing Hall of Fame, Class of 2022 by clicking on their names below: