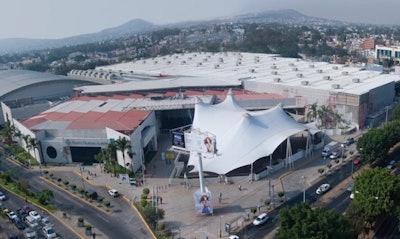 "EXPO PACK Guadalajara 2017 will truly be an international event. We have managed to bring together the latest packaging and processing machinery, materials, and technologies from exhibitors representing 16 countries."
That's how Gerardo Barajas, Director of EXPO PACK Guadalajara, sums up the excitement building as this packaging event draws near. Now in its third edition, the show runs June 13-15. This marks the first time that EXPO PACK Guadalajara serves as the main event in Mexico, taking its position as the only EXPO PACK show in Mexico in odd years, while EXPO PACK Mexico moves to even years in June 2018.
According to show producer PMMI, The Association for Packaging and Processing Technologies, the show projects three-fold growth in not only total exhibition space but also in North American participation. Of the more than 13,000 sold out net square meters of trade floor space, nearly 2,200 square meters will house 82 exhibiting PMMI members in the PMMI Pavilion. This makes the pavilion almost five times the size of the EXPO PACK Guadalajara 2015 PMMI Pavilion. Together with six additional international pavilions, this show welcomes 15,000 attendees. It is the largest packaging and processing event in Latin America.
The international pavilions include these:
• Argentina: Embassy of the Republic of Argentina
• Brazil: Think Plastic Brazil
• Canada, Unites States, and Mexico: PMMI
• China: China Council for the Promotion of International Trade
• France: ADEPT
• Italy: Italian Agency for Foreign Trade
• Spain: AMEC Envasgraf
• United States: Office of the State of Illinois for Latin America
The show is also distinguished by an outstanding lineup of education opportunities at the Innovation Stage.
Locally, EXPO PACK Guadalajara has the support of the leading national and regional trade associations, including the Chamber of Commerce of Guadalajara, The Mexican Packaging Association (AMEE), Food Industry Chamber of Jalisco (CIAJ), The Mexican Chamber of Processed Food (CANAINCA), The Mexican Chamber of Perfumes, Cosmetics & Toiletries (CANIPEC), The Mexican Chamber of Pharmaceutical Industry (CANIFARMA), National Chamber of Industry Graphic Arts (CANAGRAF), National Chamber of Metal Containers (CANAFEM) and Manufacturing Industry Chamber of Jalisco (CAREINTRA).
For full details, including registration information, please visit www.expopackguadalajara.com.mx
Companies in this article