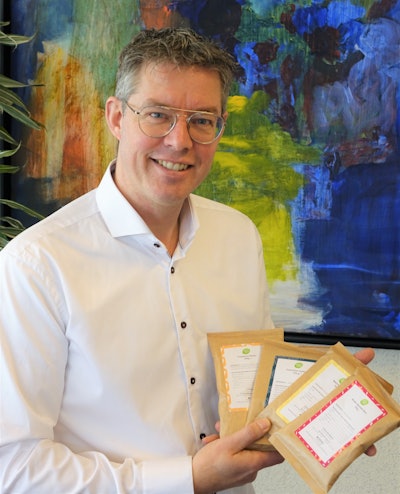 Driven by consumers' desire for fresh, convenient meal options and accelerated by the home-cooking trend sparked by the pandemic, the meal-kit market in the U.S. shows a healthy CAGR of 11.25% through 2025. That's according to TechNavio, which adds that the greatest growth in the meal-kit market will come from the U.S., at 54%. However, meal kits are not just a U.S. phenomenon. According to ReportLinker, the global meal-kit services market is forecast to reach $17.8 billion by 2027.

Meal kits, in a nutshell, comprise a kit of pre-measured food ingredients—usually a mix of shelf-stable and fresh, depending on the meal—and an easy-to follow recipe that allows the consumer to prepare the meal at home. They typically operate on a direct-to-consumer subscription basis. For a large meal-kit provider, such as HelloFresh, one of the world's leading meal-kit companies, the number of recipe options it offers its subscribers each week can total more than 50. For these companies, stocking a large range of shelf-stable items packaged in different portion sizes is viable.
---
---
But what about a smaller, perhaps more specialized meal-kit company offering a limited number of meal options each week? In their case, unpredictability in terms of which ingredients may be needed week to week is a constant. By ordering large quantities of pre-packaged dry product, these companies run the risk of having lower working capital on-hand and obsolete products.
In the Netherlands, co-packer Budelpack has devised a unique solution made up of custom software and a highly flexible packaging line developed specifically to address this unpredictability. The name given this service is Co-Packing On-Demand.
Unpredictability leads to new technology
Budelpack is a family-owned company named after a town in the province of Brabant called Budel, which is where the company started in 1971. It was that year that André Nieuwkerk launched the Netherlands' first co-packing operation at his confectionary as a service for Mars. Since then, Budelpack has become one of Europe's leading co-packers.
Each year, Budelpack co-packs more than 360 million solid, liquid, powdered, and granulated food and pet food products in primary packaging. The company operates a multi-client plant in Poortvliet in the southwest of the Netherlands, and through its partnership with a well-established logistics provider, it can pack products anywhere in Europe and the U.K.
Up until 2020, when its Co-Packing On-Demand line became operational, Budelpack's meal-kit clients comprised larger companies only, with the total number of SKUs handled by the co-packer numbering 300. For these larger brands, the co-packer produces batches from 10,000 to 100,000 at a time.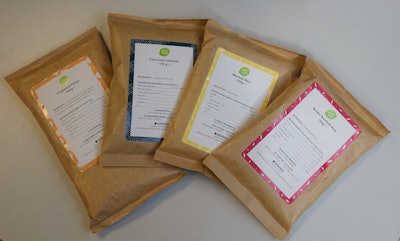 In 2018, a meal kit company approached Budelpack looking for small, changeable orders of 200 to 1,000 bags per run. The unpredictability faced by the meal-kit concern is one Peter Nieuwkerk, Budelpack Managing Director and son of company founder, André Nieuwkerk, is very familiar with.
"The only certainty we have as a co-packer is the uncertainty. We don't know who is going to order, what they are going to order, or when and in what quantities," he says. "The classic reaction to this is that you produce various series and put them in stock and deliver from there, with the risk that you build up too much stock. Of course you can try to predict production batches, but if you have a customer with many different SKUs, that becomes a complex and risky prediction with the danger that you will have stock left over."
While the new meal-kit customer was looking for small runs, the job they presented Budelpack was complex. Their product range consists of more than 200 SKUs bound for countries across Europe and comprises a full assortment of rice and grain, including basmati rice, bulgur, couscous, freekeh, jasmine rice, quinoa, risotto, orzo pasta, and pearl barley, among others, in sizes from 35 g to 350 g.
"Budelpack therefore said, 'Let's develop a planning and production process based on that unpredictability,'" shares Nieuwkerk. "That is why we started developing Co-packing On-Demand. You no longer keep stocks and what you produce is sold." For the smaller meal-kit company, this also means they can quickly change menus and can easily include in their kits products that vary in portion size.
Continuous production ensured
As most co-packers can attest to and Nieuwkerk confirms, high-speed production on-demand typically doesn't occur in the co-packing industry. Because such a system was not available off-the-shelf, Nieuwkerk challenged his technical people to develop a packaging line where the consumer could enter orders directly.
In six months' time, a multidisciplinary team from Budelpack had engineered and installed the new line as well as developed a custom production and planning software system. The packaging line, which became operational in late 2020, is fully automatic, from unloading of product to case packing. While Nieuwkerk is keeping details of the suppliers of the equipment close to the vest, he does share the packaging process.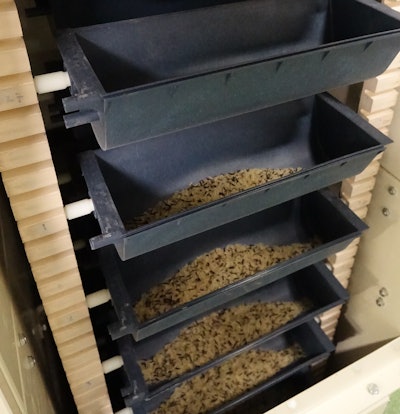 The line begins with two bulk unloading systems, each with its own hopper and multihead weigher, which allows operators to quickly change product types without stopping the line. The weighers portion the rice or grain into hopper elevators that carry the product to the line's vertical form/fill/seal pouch machine. The filled bags then go through a checkweigher and metal detection station to the labeling unit, after which they are case-packed.
The vf/f/s machine is designed to handle just one pouch width, but the length of the bag can vary from 100 to 200 mm, depending on product type and weight. Labels for the products are consistent in size at 60 x 90 mm and are preprinted around the edges with colors that link to the product flavor, while the rest of the label is blank. Product information in the required language is printed in-line. Color printing is not possible due to the high speed of the line. Each time a new product is run on the line, an operator changes over the reel.
The system's 'central brain'
Guiding the entire on-demand process is Arcaplan, the "central brain" of the system, named after Budelpack technicians Arjan and Carlos, who developed the software system in-house.
Through Arcaplan, consumers order meal kits online on the provider's website. Budelpack then receives automatic downloads from the online shop.
The system loads all orders and forms a register every two hours that contains a planning order of a series of production orders with numbers and product type. This planning order goes to the so-called "Register Box" that sets up and controls the various machine components. For example, the system combines all orders for white rice and then produces the white rice orders first, within which it can be varied in weight and country label. After that, the system switches to the other bulk station and can, for example, execute basmati rice orders. Bulk product may vary every two hours, a SKU may vary every two minutes.
Nieuwkerk provides an of how the system works: "If 400 bags of 250-gram pouches of basmati rice are needed in the Netherlands, the line produces Dutch packaging with a label in Dutch and the right amount of rice, the right-size bag, and the right outer carton. Then, if 200 bags with 300 grams of couscous are required for the U.K., shortly afterwards, English couscous bags roll off the packaging line in a different format with English labels. The line therefore produces unique items on-demand one after the other."
He adds that with these small order sizes, an operator cannot set up the machines every time, "because then you have no production time left. "You have to do that in one go," he says. "We call it a flying changeover.
---
---
"Completely emptying a line takes time, which is why we put the elevator station in-between, so you can change immediately. The system tracks each dosage and links it to the pack size and label. An in-line cleaning system ensures that the trays are quickly cleaned for a product change. Only during a wet cleaning, for example with a greasy type of rice, should the line be stopped."

Unique to the co-pack world
Says Nieuwkerk, the on-demand concept has been an ideal solution to the unpredictability faced by Budelpack's meal-kit customer, helping them eliminate stock, change their menu regularly, and deliver customized portions. He adds that while the technology is now being used only for this one customer, "the technique can be multiplied to other projects in the future, when it is proven and developed to a mature stage."
He adds, "This is really a unique packaging line in the co-packing world. Of course, the end result, a simple paper pillow bag, is not special. Anyone can make it. But how we make it and that we don't have to keep stock and can produce small batches in a short time is special."